Rick Ross May Have Dissed Drake on "Color Money" Track — Full Lyrics Here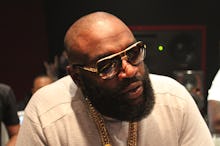 After Rick Ross threw Instagram shade at Wale for making fun of fellow rapper Meek Mill October, Ross is back in the ring. In his recent track "Color Money" off his upcoming album Black Market, Ross may be at Mill's defense again — this time throwing shade at Drake. 
When Mill accused Drake of ghostwriting over the summer, Drizzy fired back with his chart-topping diss track "Back to Back." In the lyrics, the Canadian rapper joked that Mill was just tagging along on girlfriend Nick Minaj's The Pinkprint Tour. "You love her, then you gotta give the world to her/Is that a world tour or your girl's tour?" Drake said in the rap. 
Ross, who owns the Maybach Music Group label, which signed Mill in 2011, seems to make a reference to the ballsy "Back to Back" line in his new song "Color Money."
"Color money got your bitch out on a world tour/My lil' homie [Meek Mill] made a million on his girl's tour/We back to back and down whack a nigga unborn/Miami nigga got 'em changin' all they gun laws/So run Forrest, got some shooters and they down, too/I got more money than that nigga that you signed to."
"My lil' homie made a million on his girl's tour" Ross raps, possibly making the point that Mill raked in a noteworthy amount of cash appearing on Minaj's world tour, before subtly threatening Drake with gun talk. 
The ball is now in Drizzy's court. 
Here are the song's full lyrics, via Genius:
[Intro]