Watch DJ Earworm's 2015 "United States of Pop" End of Year Pop Mashup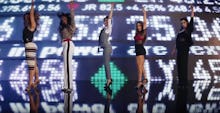 Since 2007, DJ Earworm has helped us celebrate the close of another year of pop by giving us the opportunity to listen to the entire year of hits at once. 
Usually, DJ Earworm (aka Jordan Roseman) splices together around 25 hits, but this year he doubled the lift, according to Billboard. He's mashed up 50 of the year's biggest songs into what he's calling the "50 Shades of Pop." Hooks from Justin Bieber, Taylor Swift, Bruno Mars, Rihanna and Fetty Wap all grace the supercut. Even Adele, whose 25 dropped just a week and a half ago, made it to the party right on time.
This year's track is a little more stripped down and melodic than it has been in years past. 
"I try to get a feel of what is in the zeitgeist," Roseman told Billboard. "Music has been going through a softer phase than it was a few years ago, so there's that return of adult contemporary. That's maybe represented by the Ellie Goulding track; it's very lush and soft. And then there's sort of retro, uptempo dance stuff, and that's represented by The Weeknd track."
Both artists contributed to the 50 Shades of Grey soundtrack and feature heavily in the mix — hence the title. Though they're just two of many. Check the full list of songs sampled below.
Adele — "Hello"