'Food Porn' TV Show: Date, Time, Channel and Preview for FYI Series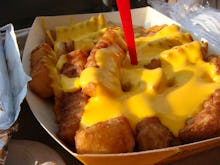 The FYI Network is hoping to turn an Instagram phenomenon into a TV show viewers will be salivating over with their new series appropriately titled Food Porn.
Food Porn will follow Michael Chernow, owner of New York's famous restaurant chain the Meatball Shop, on a nationwide quest for the most pornographic #FoodPorn dishes in real life — basically the American dream reincarnated. The show kicks off Thursday on FYI at 9 p.m. Eastern. Bethenny Frankel of Real Housewives will executive produce the show.
Watch Chernow eat lobster pop-tarts in a sneak peek here. 
In one of the more obvious studies ever conducted, an October study showed that looking at food porn makes people really hungry. Scientists found that saturated virtual images of high fat food, otherwise known as food porn, is something to consider when studying the obesity crisis. "There is a danger that our growing exposure to beautifully presented images of food [is] having detrimental consequences," the study reads. In that case, bring on the detriment. 
Back to #FoodPorn: