Here Are the English Translation Lyrics and Video for Psy's New Song, "Daddy"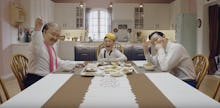 Psy, the worldwide phenomenon whose breakout music video for "Gangnam Style" has been viewed well over 2 billion times on YouTube, is back with a catchy new single and yet another eccentric, somewhat disturbing music video. "Daddy," the latest club anthem from the Korean pop star, dropped Monday, showing Psy throughout the various stages of his life, with his face being digitally implanted on a child's body.
Like "Gangnam Style," the music video features attractive Korean dancers, bursts of eccentric choreography and short bits of the English language. However, most of the song is in Korean, leading international fans to wonder what the hell is actually going on in Psy's new single.
Tech Insider has transcribed the lyrics for fans, leaving two terms in place as there aren't direct English translations for "oppa," an older male friend and" unni," an older female friend:
I got it from my DADDY, DADDY