At Least 14 People Dead in San Bernardino Mass Shooting, 2 Suspects Killed in Shootout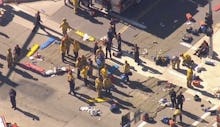 Shooting erupted near a public golf course in San Bernardino, California, on Wednesday, local authorities reported. According to a tweet from the San Bernardino Fire Department, the shooting, which happened at the Inland Regional Center, a social services center located on the 1300 block on South Waterman, involved at least 14 deaths and 21 injuries. Two suspects, one male one female, were killed in a shootout with police and another person, who may or not be a suspect, is being detained during investigation. The deceased male has been identified as Syed Rizwan Farook and the deceased female as Tashfeen Malik, per CNN and the Los Angeles Times.
Around 6:15 p.m. Eastern a law enforcement officials engaged in a shootout on a black SUV. One suspect was "down," according to the San Bernardino County Sheriff.
ABC 7 News first reported that at least 12 people are confirmed dead and that the attack was carried out by three shooters, all of whom may have been wearing heavy body armor. 
Yet speaking during a televised press conference at about 5 p.m. Eastern, Chief Jarrod Burguan of the San Bernardino Police Department confirmed that upwards of 14 people were dead. Thursday morning, Burguan updated the number of wounded to 21 individuals. Burguan added that a motive for the shooting was not immediately clear. 
The FBI was on the scene.
Read more: 
"The FBI is responding to the reported shooting incident in San Bernardino with resources to assist our partners," an FBI spokeswoman said in an emailed statement to Mic. "No further information is currently available."
The Los Angeles Times reported that Sgt. Vicki Cervantes, a spokeswoman for the San Bernardino Police Department, confirmed as many as three shooters inside the center on Wednesday. "It's a very active scene," Cervantes told the newspaper. "It's very fluid."
One caregiver who lives in the area, Meredith Wiresinger, said she knows three people who work at the Inland Regional Center and hasn't been able to contact them.
"I haven't heard anything from any of them," Wiresinger told Mic. "I am just waiting. I am about a block away from the scene."
Photos posted to Twitter show emergency responders arriving to the scene of the shooting and evacuating people on stretchers. Multiple wounded victims were being transported to the Loma Linda University Medical Center, according to ABC 7. The hospital's hotline message says the center is "expecting an influx of patients from the scene of the incident in San Bernardino."
"There's a lot of chaos at this moment," Sherman Dumas, pastor of the nearby Kingdom Culture Church, told Mic. "People are confused about exactly who the shooters were. I am getting a lot of text and calls."
According to the Inland Regional Center's Facebook page, the center, which opened in 1971, employs nearly 670 people and works with roughly 32,200 individuals in Riverside and San Bernardino counties who live with developmental disabilities.
Per its Facebook page, the Inland Regional Center's mission statement reads:
"As an agency among agencies, Inland Regional Center coordinates with generic services to normalize the lives of people with developmental disabilities and their families by working to include them in the everyday routines and life rhythms of the community and by facilitating needed supports for them."
"It's terrible," Kim Hanson, the manager of Structural Materials Co., a business located on the same block as the Inland Regional Center, told Mic. "It's terrible. We're all on lockdown." 
"They have armored trucks going up and down and they have about 200 cops," Hanson said. "We've been on lockdown less than two hours. But there are a lot of injuries — I can see a lot of people being treated. It's terrible."
Paloma Esquivel, a reporter for the Los Angeles Times, was tweeting from the scene. "Kristina Lopez, an employee of Inland Regional Center, said she and several others sheltered in a conference room during the shooting," reads one tweet from Esquivel. 
Another reporter on the scene posted this photo of bystanders reacting to the news:
California Rep. Pete Aguilar encouraged residents to lock their doors and "stay inside."
"My prayers are with the victims, families and survivors of this horrific attack," Aguilar said in a statement emailed to Mic. "I'm on my way back to the district and am in touch with our local law enforcement to closely monitor the situation as it develops. My heart aches that the out-of-control gun violence epidemic has come to our community."
To date in 2015 there there have been 355 mass shootings, according to the Washington Post. 
Shortly after the news broke, presidential candidates, among them former Secretary of State Hillary Clinton and former Maryland Gov. Martin O'Malley, tweeted responses to the shooting. Both candidates evoked gun control and expressed a need to take action against gun violence. 
Several Republican candidates, among them Florida Gov. Jeb Bush and business tycoon Donald Trump also tweeted in response to the shooting, though neither made any mention of gun control.
Dec. 2, 2015, 5:10 p.m.: This story has been updated. 
Dec. 3, 2015, 12:52 p.m.: This story has been updated to reflect the confirmed number of people injured in Wednesday's shooting in San Bernardino, California.