Here's What It's Like to Be Slut-Shamed for Trying to Buy Birth Control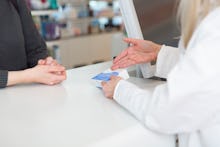 The first time I ever went to buy emergency contraception, I walked into my neighborhood CVS at 10 a.m. dressed in someone else's tie-dye shirt and a pair of sunglasses I found on the street, tequila likely seeping from my pores. I looked like I was about to start my morning with a swig of warm yellow Gatorade to wash down the morning-after pill (which was entirely true), but I didn't really give a damn. That is, until I walked up to the counter and told the pharmacist I needed Plan B.
When I uttered the phrase "morning-after pill," the pharmacist scowled, scoffed and loudly asked if I wanted the generic. I'd have to be more "responsible" and take two pills over 12 hours, she said, but it would save me a few bucks in the end. 
Mortified, I took the pink box and one of the little white pills inside it. From then on, if I needed emergency contraception, or simply if I wanted to refill my birth control prescription, I started driving to a pharmacy further away. 
That I could get emergency contraception elsewhere was a luxury; so was the fact that the pharmacist sold it to me at all. Although there are no age or gender restrictions for purchasing Plan B and other brands of emergency contraception across the U.S., many young women have reported being turned away by pharmacists when they tried to buy the drug. Men face an even harder time getting it: According to one recent study, an estimated one in five were denied it.
Even when pharmacists do let people access contraception, whether emergency contraception or condoms or prescription birth control pills, the process isn't always free of judgment. In a series of recent online discussions, people across the country have begun to share stories of the stigma they've experienced getting birth control at the pharmacy, illustrating that shame, criticism and unsolicited commentary are still common parts of pregnancy prevention. 
As some commenters have pointed out, this can be especially damaging to teens, who might be less inclined to use birth control when they feel they're going to be judged for it. That's why one Reddit user launched a thread about being shamed for picking up birth control when she was 15, and watched two older pharmacists joke and laugh about her need for contraception "the entire time they were filling my prescription." 
"I hadn't talked to many people about it so I hadn't heard many similar experiences, but I was sure some people had probably experienced situations much like my own," the user told Mic in an email. "I'm 19 now but I first started birth control when I was 15. I wanted to write about my experience because it made me feel pretty uncomfortable and belittled at the time, and I know that would discourage a lot of girls from taking birth control altogether, which is not [all right]."
Mic asked other readers about their experiences being judged by health care professionals for trying to access contraception as well, and found instances of stigma big and small: 
"I have been shamed for trying to buy condoms. At the pharmacy [where] I had to get my [prescriptions] for birth control pills, I could get antibiotics that made the birth control ineffective. [The] counter girl told me I didn't need [birth control] anyway — because I was married." — Tumblr user whereverigoyougobuddy
"I'm a lesbian, and my general doctor knows this. When he found out I was on birth control, which I get from the OB-GYN, he asked, 'Why do you need birth control if you're gay?' It made me really uncomfortable that a trained medical professional with years of school thought the only use for contraception was preventing pregnancy, when in fact I get really painful and debilitating periods, and contraception has done wonders for me." — Tumblr user burymeinsurprise
"The first time I tried to go on contraception ... for crippling period pain, the doctor I visited said he wouldn't prescribe it, as it would promote promiscuous activity. Never mind the fact that I was single and a virgin; he kept repeating that prescribing any sort of period-stopping medication to an adolescent female would give me the idea that it was OK to sleep around and have unprotected sex with numerous partners." — Tumblr user 420swagcat
"When my doctor found out I was on birth control...he asked, 'Why do you need birth control if you're gay?'"
"In 2013, I was raped by my boyfriend at the time. He wouldn't take me to get Plan B, so a friend drove me to [another town],  which had the closest pharmacy to my house in Plainfield, Illinois. Plainfield is kind of a small, conservative town despite being so close to Chicago, so I wasn't that surprised when I was slut-shamed. I asked the pharmacist for Plan B. She gave me a judgmental look, and asked if I was sure I had enough money for it. At that time it was around $60. I said yes — of course I had researched it before buying it and brought enough money. She was snobby while she got the box for me and rang me up. My friend hid in a nearby aisle. It was a humiliating experience, to say the least." — Madeline*, 20
"As a teenager our local Kroger kept all of the contraceptives in a locked case. One had to ask the pharmacist or a manager to get them. One certain pharmacist would always give my boyfriend a lecture about having sex before marriage." — Tumblr user vanished-opera-singers
"I had sex without a condom, but I'm on the pill. Still, I left the guy's house & drove to Walmart immediately to purchase Plan B. ($45 & in a locked case, btw.) Employee — [an] old woman — shot a look, only said 'God have mercy' after I smiled/thanked her." — Tumblr user lifeofanobody13
"My sister is severely autistic and takes a birth control pill each night so she only has her period 4 times a year instead of 12 ... she is not taking a birth control pill to have sex. Well, I picked up her prescription and her pharmacist started joking with me, obviously thinking I was her, saying 'Well, I wonder what this is for,' and winking at me and stuff. I was so infuriated and uncomfortable that he'd ever treat a young woman that way." — Tumblr user miranda-danda-panda, 19