San Bernardino Mass Shooting Is No. 355 for the Year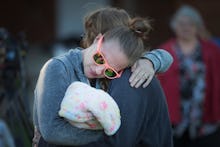 Wednesday's mass shooting at Inland Regional Center in San Bernardino, California, that resulted in at least 14 deaths and 21 injuries is the latest in an epidemic that is spiraling out of control.
The Washington Post reports 354 prior mass shootings involving at least four injured or killed across the U.S. have happened in the 336 days that had passed so far this year. This metric differs from the official FBI definition, which only includes incidents in which four or more people are killed.
By the Post's standard, the event unfolding in San Bernardino appears to be the 355th mass shooting of the year.
Let that sink in: In 2015, mass shootings in the U.S. now happen on a more-than-daily basis.
No other developed countries have similar rates of either gun ownership or gun-related fatalities.
That's the point President Barack Obama recently tried to drive home following the rampage at a Planned Parenthood clinic in Colorado Springs, Colorado, on Nov. 27, which killed three.
"[This is] not normal," the president said in a statement, according to the New York Times. "We can't let it become normal."
"If we truly care about this — if we're going to offer up our thoughts and prayers again, for God knows how many times, with a truly clean conscience — then we have to do something about the easy accessibility of weapons of war on our streets to people who have no business wielding them," he continued.
"Period," he said. "Enough is enough."
But far more disconcerting is the possibility that mass shootings have already become the new normal — statistically and psychologically — and it's a stain on the national conscience.
Alongside the hundreds of mass shootings that are now apparently taking place every year, the National Gun Violence Archive has tracked 48,180 separate incidents so far in 2015, resulting in 12,184 deaths and 24,660 injuries, at time of writing.
Dec. 2, 2015, 6:36 p.m.: This article has been updated.
Dec. 3, 2015, 1:03 p.m.: This article has been updated to reflect the confirmed number of people injured in Wednesday's shooting.
Correction: Dec. 2, 2015