San Bernardino Shooting: Follow Live Coverage and Updates From CBS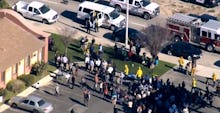 An active shooting incident in San Bernardino erupted Wednesday as one to three gunmen opened fire at the non-profit Inland Regional Center, local authorities reported. 
Initial reports cite at least 14 deaths and multiple injuries. FBI and police forces sped to the scene as reports of victims hiding in locked rooms and escaping the building began to flood Twitter. 
The mass shooting is the 355th in the United States this year. Nearby schools were put on lockdown as they awaited an update from authorities.
Watch live updates from CBS news on this developing story here.