Inland Regional Center: Here's What We Know About the San Bernardino Shooting Location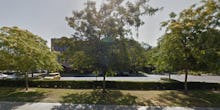 A shooting that killed an estimated 14 people erupted at the Inland Regional Center in San Bernardino, California, a nonprofit center serving individuals with developmental disabilities, on Wednesday. 
"Inland Regional Center was built on the foundation of three core values — independence, inclusion and empowerment," a statement on the center's Facebook page reads. The Inland Regional Center opened in 1971 and operates to assist the developmentally disabled in day-to-day life. The center staffs about 670 people and serves more than 30,000 disabled people in San Bernardino and Riverside counties. At least 20 in the building on Wednesday were involved in the shooting, with police confirming Thursday that 14 had been killed and 21 injured during the attack. 
The organization's mission, according to it's Facebook page, is to help acclimate the disabled to live normal lives. "As an agency among agencies, Inland Regional Center coordinates with generic services to normalize the lives of people with developmental disabilities and their families by working to include them in the everyday routines and life rhythms of the community and by facilitating needed supports for them."
It appears the center threw a holiday party for its patients and staff on Tuesday, according to photos posted to the center's social media. A video from the holiday party was uploaded to Facebook: 
Facebook users have already posted supportive messages and prayers to the organization's Facebook page. "What's wrong with the world?" one user wrote. "Our thoughts and prayers are with the people caught up in today's needless and senseless act of terrorism in the City of San Bernardino, California."
Several others wrote they were sending prayers. 
Dec. 3, 2015, 1:01 p.m.: This story has been updated to reflect the number of people killed and injured in Wednesday's shooting.