Presidential Candidates React on Twitter to Mass Shooting in San Bernardino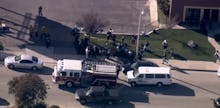 Presidential candidates used Twitter to react to the active shooter situation at the Inland Regional Center in San Bernardino, California, on Wednesday. Democratic candidate Martin O'Malley was the first to respond, pledging to "stand up to the NRA."
Republican candidates were slower to tweet. So far, Mike Huckabee, Jeb Bush, Ben Carson, Lindsey Graham, Ted Cruz, Chris Christie and Rand Paul have offered their "thoughts and prayers" to the victims of the mass shooting.
Republican front-runner Donald Trump also commented on the situation in San Bernardino, praising the nation's police officers and "wishing them luck." 
President Barack Obama, meanwhile, spoke with Norah O'Donnell of CBS This Morning following his briefing on the shooting. Noting that many of the details surrounding the events remained unclear, the president remarked, "The one thing we do know is that we have a pattern now of mass shootings in this country that has no parallel anywhere else in the world and there are some steps we could take, not to eliminate every one of these shootings, but to improve the odds that they don't happen as frequently."
Dec. 2, 2015, 5:50 p.m.: This story has been updated to include remarks from President Barack Obama.