What We Are Learning About the Suspects in San Bernardino Mass Shooting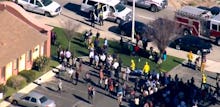 Two suspects are dead Wednesday after a shooting erupted at the Inland Regional Center in San Bernardino, California, that killed at least 14 people and injured at least 17 more. Two suspects, one male and one female, were killed in a shootout with police, Chief Jarrod Burguan of the San Bernardino Police Department said in a press conference. A third person was seen fleeing the scene and is being detained during investigation. The deceased male has been identified as Syed Rizwan Farook and the deceased female as Tashfeen Malik, per CNN and the Los Angeles Times.
The shooting occurred at the IRC's conference center, which the San Bernardo County Health Department was renting out for an event. Officials have reason to believe one of the gunmen attended the event earlier to confirm that a target was there, Los Angeles Times reporter Rick Serrano tweeted.
In a 5 p.m. Eastern press conference, Burguan said up to three shooters entered the building, opened fire, and eventually fled in a dark SUV. 
Authorities are being told the shooters interrupted a meeting at the center and started firing what appeared to be semi-automatic rifles, Serrano tweeted. 
The shooting occurred at Inland Regional Center, a nonprofit center that serves those with developmental disabilities. An employee of the center told Los Angeles Times reporter Paloma Esquivel, who is reporting live from the scene, that "she and several others sheltered in a conference room during the shooting."