San Bernardino Shooting Reactions Show People Are Sick, Tired and Ready for a Change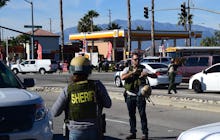 On Twitter, there was a visceral sense of rage, mourning and exhaustion as Americans began to come to grips with the latest mass shooting to hit the nation — the 355th this year. 
Violence erupted on Wednesday after at least one and possibly three gunman stormed a social services center in San Bernardino, California. Fourteen people are dead and 21 injured, San Bernardino Police Chief Jarrod Burguan confirmed Thursday morning. 
A number of wounded were transferred to the Loma Linda University Medical Center for treatment while others were escorted from the scene by police. At the time of this writing, sources on the ground said that the immediate area had been contained but that the perpetrators remain armed and on the loose. 
"There's a lot of chaos at this moment," the Rev. Sherman Dumas, pastor of the nearby Kingdom Culture Worship Centre, told Mic. "People are confused about exactly who the shooters were. I am getting a lot of text and calls." Dumas said he was on the scene to offer spiritual guidance.
There are only so many more ways one can appropriately react to news of a mass shooting these days. But the real fatigue can be felt in the Tweets of those bemoaning the usual offering of "thoughts and prayers" — and little else.
For those who want to offer something more substantial, check out Medium's guide to contacting your elected official.
This is a developing story. For the most up-to-date coverage see Mic's reporting here. 
Dec. 3, 2015, 1:08 p.m.: This story has been updated to reflect the confirmed number of people injured in Wednesday's shooting in San Bernardino, California.