9 Web Series You Need to Binge-Watch Over Your Holiday Break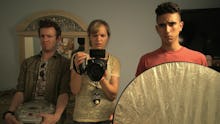 There's no better time to watch an unreasonable amount of television than those quiet days between Christmas Eve and New Year's Day. By the time the fourth week of December rolls around, you've completed all the work absolutely necessary to finish before everyone goes offline and you're ready to disappear through your screen of choice into the bottomless entertainment pit that is the Internet.
Whether you're watching in bed on your tablet or streaming to your TV, there's no shortage of web videos out there. Sure, you can watch the latest Netflix original series or spend hours reliving all 10 seasons of Friends on the service. But beyond the high-profile shows taking up your streaming bandwidth, there's a whole world of web series that deserve your attention.
Independently produced or part of emerging multi-channel networks like Maker Studios and AwesomenessTV, these web series are typically shorter in length than television-style shows. They also often have edgier themes and dialogue and increasingly are proving to be the seedlings for the next great TV shows (hey, Broad City).
This kind of show takes binge-watching to the next level. Because the episodes are shorter and the seasons often contain fewer episodes, you won't spend a Sunday going through just one season — you can knock out an entire show.
If you want to really veg out this holiday break, here's a list of Mic's favorite web shows that you have to watch:
1. The Outs
This series follows the lives of three people living in Brooklyn, New York — Mitchell, (executive producer Adam Goldman), his best friend Oona (Sasha Winters) and his ex-boyfriend Jack (Hunter Canning) — as they try to recover from a broken relationship. Originally released online in 2012 with six episodes, it gained so much popularity that the producers raised enough money on Kickstarter to create a 43 minute-long bonus holiday special. Vimeo Originals recently picked it up for a second season, to be released in 2016.
2. Whatever This Is
If you want to watch a reality show about reality television, or about paying your dues in any career track, check out this web series. The show follows production assistants Sam (Hunter Canning) and Ari (Dylan Marron) as they work on the sets of bad reality television shows, which pay the bills while they pursue their actual career goals. The six episodes provide a heavy dose of reality itself, chronicling what it's like to struggle through jobs you hate while trying to make ends meet. It also gives viewers a glance into the horrendous world of producing reality television. So far, there's only one season, so you can easily binge it in an afternoon.
3. Gayle
After three years and thirty-nine episodes, comedian Chris Flemming is still portraying what it's really like to be a high-strung suburban housewife. In this satirical web series, Flemming plays Gayle Waters-Waters, a wife and mom who attacks both of those roles with the same ferocity one might have when training for the Olympics. In the first episode, Waters-Waters eats Go Lean Crunch before power walking around the neighborhood, stopping to lust after the local orthodontist along the way. 
From shopping at Costco like it's a war zone to vacuuming the driveway, Flemming captures the absurdity of the archetypal suburban mom, if she were on steroids. He came up with the character after spying a woman digging through placemats in Crate & Barrel back in 2009 and perfected it in stand up for two years before turning the show into the series it is today.
4. Home Office 
In eight, five-minute episodes, producers James Darling and Josh Shayne take viewers through common problems people face when deciding to pursue the seemingly- liberating freelance lifestyle. The creators shot the entire first season in one week at Shayne's Brooklyn apartment, then sold sponsorship of the series to two advertisers before releasing it online. From everyday issues like taking meetings in your pajamas, to the highs and lows of feeling both insanely productive and like a complete failure, the show lovingly satirizes the hilarious, awkward and mind-numbing realities of freelance life.
5. Written It Down
With only five minutes to make a web video worthwhile to a viewer, the storyline has to get to the point very quickly. In this web series, the creators are challenging that traditional model and bringing improv into the genre. In each video, a comedian sits across from another one with a piece of paper containing a phrase. The comedian reads the phrase to the other one, setting off a round of verbal sparring that builds into the most ridiculous scenario they can muster within the time frame. The show succeeds by simply capturing challenging but funny interactions between people, then sharing them online.
6. The Misadventures of Awkward Black Girl
If you didn't get enough awkward from Written It Down, this show has you covered. It follows the main character J, played by creator Issa Rae, as she meets and connects with people in situations that are painfully awkward, from interactions at work to her first interracial dating experience. We know how J's feeling, as the episodes are narrated in first-person, and J expresses her emotions through voiceovers and dream sequences in between the real-life scenarios. There are only two seasons from 2011 and 2012, but thanks to the Internet, J's hilarious and cringe-inducing encounters live on.
7. H+ The Digital Series 
If you want to completely melt your mind, spend a few days getting lost in this super-meta web series. H+ The Digital Series depicts a future where a third of the world's population has been injected with H+, which connects people to the internet 24/7. The series starts off in the middle of this dystopian world, when a virus has infected the H+ implant on certain people. Produced by X-Men director Bryan Singer, the show explores what technology could do to our world in the future. 
While the special effects are good enough to be in a feature film, the show is uniquely formatted for the Internet because the episodes are not chronological. You can watch in whatever order you choose, as they all jump forward and back in time from the original episode.
8. Sidetrack
This new series follows the lives of queer women in New York City. Each episode tells one woman's story, exploring her unique experience in relation to the other characters. Released on Nov. 17, it's already gaining traction with its nuanced portrayal of being queer in New York amid the general turmoil of being in your 20s. 
"Coming out is this all-the-time thing, and I never realized that," says Radhika, an aspiring comedian, in episode three. "I wasn't being honest in my comedy because I wasn't really being honest with myself, and I wanted to change that."
9. Comedians in Cars Getting Coffee 
This one is pretty much exactly what it sounds like. Since 2012, Jerry Seinfeld has been driving around other equally (if not more) famous comedians, who sometimes happen to be his friends, in fancy cars, to take them to get a cup of coffee and chat about the business of making people laugh. This show is an easy guilty pleasure. Who doesn't love watching some of the best comedians in television get driven around by a comedy king in a really expensive car? You can watch them all straight through or just skip around to your favorite comedians to see how Seinfeld gets along with them. So far he has six seasons under his belt, so there are plenty of comedians to choose from.