12 Photos From the Scene of San Bernardino Mass Shooting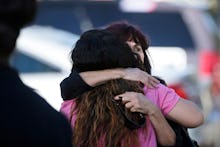 Two gunmen stormed a social services center in San Bernardino, Calif. on Wednesday and opened fire. In a televised press conference around 5 p.m. Eastern, Chief Jarrod Burguan of the San Bernardino Police Department said that at least 14 people were killed in the mass shooting that shook the Southern California community. Another 21 people were injured during the attack, Burguan confirmed Thursday. According to Burguan, the suspected gunmen's motives were not immediately clear. 
Here are a series of photos that show emergency responders reporting to the scene of the shooting, where wounded individuals and bystanders were evacuated by bus: 
Speaking during the first media address, Burguan said police were alerted to the incident around 11 a.m. Pacific and mobilized emergency response crews to the scene of the shooting. The Inland Regional Center is located roughly 60 miles east of Los Angeles.
Victims and injured persons were transported to the Loma Linda University Medical Center, according to ABC7. 
As of 5:30 p.m. Eastern, officials were still looking for the gunmen who, according to San Bernardino law officials, were at large and may be "heavily armed," Reuters reported. 
Dec. 3, 2015, 1:10 p.m.: This story has been updated to reflect the number of people killed and injured in Wednesday's shooting.