Brian Fallon Is Releasing a Solo Album in 2016 — Here's Everything We Know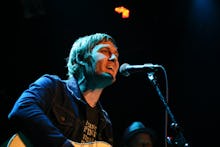 Brian Fallon, lead singer of the Gaslight Anthem, is set to release his first solo album, to be titled Painkillers, early next year. 
"I think this was easily one of the most enjoyable experiences I've had both writing and recording a record," Fallon said in a November Tumblr post. "Everything feels right to me, and I'm happy to finally see it coming into its own thing."
Fallon first announced his solo project in September on Facebook. There's still no official release date set for Painkillers, but he announced on his Instagram that recording wrapped in October and tickets are on sale for the tour.
Fallon released five studio albums with the Gaslight Anthem, the most recent being 2014's Get Hurt, before the band announced on Facebook in July that they would be "taking a break."
In addition to his solo work, Fallon has also recorded as part of the duo the Horrible Crowes and is a member of the band Molly and the Zombies.