Sandy Hook Senator Just Summed Up the Reality of Sending "Thoughts and Prayers"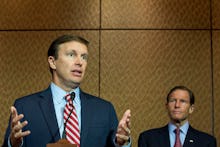 Connecticut Sen. Chris Murphy tweeted a powerful message to those who lazily offer "thoughts and prayers" to victims of the San Bernardino shooting. 
In 2012, Murphy was serving as Representative of Connecticut's 5th District when Adam Lanza opened fire on Sandy Hook Elementary School in Newtown, killing 20 children and six staffers. 
"My heart aches for the people of San Bernardino," Murphy wrote in a statement. "I cannot express the profound sadness I feel each time a new community grieves and endures the same pain that brought Newtown to its knees three years ago this month." 
The message is no doubt directed at the miscellany of Republican presidential candidates who have said nothing of gun violence or gun control but extended the usual thoughts, prayers and thoughts and prayers.
While Democratic presidential candidate Hillary Clinton did not specifically address gun control, she did call for an end to gun violence — as did Vermont Sen. Bernie Sanders.
The only presidential candidate to explicitly mention the National Rifle Association was former Maryland Gov. Martin O'Malley.
Just five months after the Sandy Hook Elementary shooting, efforts to institute tighter gun control laws were thwarted by NRA lobbying. "The National Rifle Association outspent supporters of new gun controls [expanding background checks] by hundreds of thousands of dollars as the Senate considered and ultimately rejected legislation," the Hill wrote in April 2013. 
Murphy, for his part, offered a prayer of more substance.
"As we await the facts from the chaos on the ground, I can only pray that America's leaders will do something — anything — that prevents more communities from knowing this sorrow," he wrote.
"Congress' number one responsibility is to keep our constituents safe, and not a single senator or member of Congress can go back to their state this weekend and claim that they are doing their job."
Catch up on the news that matters in 5 minutes or less by signing up for our daily email news briefing.