Two San Bernardino Mass Shooting Suspects Reported Dead After Police Shootout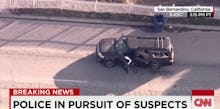 Two unidentified suspects in a Wednesday massacre at Inland Regional Center in San Bernardino, California, which killed at least 14 people and wounded 21 others, are dead following a shootout with police.
Authorities have identified a man named Syed Farook as a suspect in the slayings, which prompted a massive manhunt involving hundreds of officers. One of the slain suspects was male and the other female.
A live feed from CNN showed an apparently bloodied body laying on the pavement several dozen feet from a bullet-riddled black SUV. The vehicle appeared to match descriptions of the escape vehicle in the attack. A rifle or submachine gun of some kind lay nearby.
A police officer is reported injured with injuries that are not life-threatening, according to a statement the San Bernardino Police Department gave in a press conference.
One Twitter user posted what appeared to be a photo of a suspect being taken into custody, though the report could not be independently verified.
Police initially reported up to three suspects committed the attack. After two suspects were killed in a shootout with police, officials confirmed that a third person was detained, but that they had not ascertained whether that individual was a participant in the shootings.
According to the Washington Post, the scene of the attack was a San Bernardino County Public Health department holiday party, which took place in a venue at the building capable of holding 250 people.
Dec. 3, 2015, 12:52 p.m.: This story has been updated to reflect the confirmed number of people injured in Wednesday's shooting in San Bernardino, California, and the number of suspects police have named.