Syed Farook Named As Suspect in San Bernardino Shooting That Left 14 Dead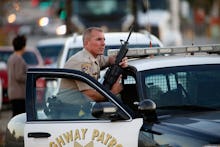 Multiple law enforcement agencies have named Syed Farook as one of the suspects in a mass shooting at Inland Regional Center in San Bernardino, California, which killed at least 14 people and wounded 21 others on Wednesday, according to NBC News.
After NBC News correspondent Pete Williams revealed the name in connection with an ongoing investigation into the shootings on TV, NBC staffer Bradd Jaffy confirmed on Twitter that Farook is a suspect.
The Los Angeles Times also reported law enforcement sources had named Farook.
Two unidentified suspects driving a black SUV similar in description to a getaway vehicle used in the attack, one male and one female, were killed in a firefight with police hours after the massacre.
San Bernardino Police Chief Jarrod Burguan told media in a press conference the suspects were equipped with assault rifles, handguns and possibly body armor. Later, Burguan clarified that the suspects were wearing black tactical gear with room to store ammunitions, but not ballistic or bullet-resistant vests. 
A third individual was detained after fleeing police officers, though Burguan said they had not yet identified that person as a suspect.
Authorities have already recovered multiple firearms and the FBI are searching a home in nearby Redlands for evidence, according to the Guardian.
No motive has yet been ascertained in the rampage, which Inland Regional Center executive director Lavinia Johnson told CNN took place during a holiday party for San Bernardino County Department of Public Health employees.
David Bowdich, FBI assistant director in charge of the Los Angeles Field Office, said during a press conference Wednesday evening he was not ready to rule out the attack as an act of domestic terrorism.
Dec. 3, 2015, 12:52 p.m.: This story has been updated to reflect the confirmed number of people injured in Wednesday's shooting in San Bernardino, California, as well as the type of tactical gear the suspects wore.