'NY Daily News' Goes Hard After "Thoughts and Prayers" in Wake of San Bernardino Shooting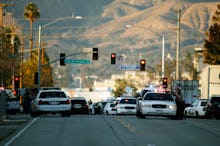 The New York Daily News didn't pull punches with the front page of its publication in the wake of the deadly shooting that shook San Bernardino, California, on Wednesday. The bloody shootout, which left at least 14 dead and 21 others wounded, was carried out by three suspects at the Inland Regional Center, a social services center that is located roughly 60 miles east of Los Angeles and which is focused on aiding patients with developmental disabilities, according to San Bernardino Police Chief Jarrod Burguan. 
"God Isn't Fixing This," reads the Daily News' cover story, referencing the incident in San Bernardino, which marked the 355th mass shooting in the U.S. this year.
This isn't the first headline of its kind from the Daily News regarding gun violence in America.
On Dec. 16, 2012, in the wake of the deadly Sandy Hook Elementary shooting in Newtown, Connecticut, the publication ran photos of the faces of the fallen victims. The cover story was captioned "Fallen Angels."
Then, on Jun. 19, the publication ran another cover story after gunman Dylann Roof went on a shooting spree at a historically black church in Charleston, South Carolina. The publication captioned its front page "America's Disease."
On Aug. 28, the New York Daily News' front cover trumpeted, "America's Full of It," after two journalists were gunned down during a live broadcast in Roanoke, Virginia.
And on Oct. 2, the publication dedicated its cover to a lack of governmental gun control regulation in response to mass shootings at Umpqua Community College in Roseburg, Oregon, with the tagline "And Nothing's Changed."
The nation has suffered no shortage of carnage due to gun violence in recent years. Yet, as for the deadly incident in San Bernardino, justice was creeping in. Though law enforcement were still searching for details to pin down the perpetrators' motive, two of the suspected assailants were dead as of Wednesday night; a third individual was detained, though not confirmed as a suspect. 
CNN captured footage of a shootout between law enforcement and a black SUV that reportedly belonged to a suspect. 
The deadly shooting on Wednesday follows a trend of worldwide violence but puts a spotlight on the true source of carnage in the U.S.
There has been a disproportionate amount of gun violence resulting in fatalities in America in the past ten years, as compared to jihadist terrorist attacks. The proportion of gun violence versus terrorism attacks in the U.S. is poignantly relevant in the wake of the Paris attacks that devastated France on Nov. 13, and a resulting dialogue that followed concerning how the attacks might contribute to widespread Islamophobia.
Catch up on the news that matters in 5 minutes or less by signing up for our daily email news briefing.
Dec. 3, 2015, 12:52 p.m.: This story has been updated to reflect the confirmed number of people injured in Wednesday's shooting in San Bernardino, California.