Syed Rizwan Farook and Tashfeen Malik: Here's What We Know About San Bernardino Suspects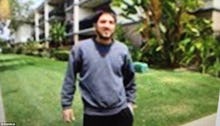 Syed Rizwan Farook and Tashfeen Malik, the alleged gunman and gunwoman of a murderous rampage in San Bernardino, California, that left at least 14 dead and 21 wounded, came to a violent end themselves Wednesday afternoon when both were shot dead by police after a chase. A third person seen running from the scene was detained, but police said it was unclear if he was connected to the shooting.
With both principal suspects dead, the motives and reasons for the rampage, the deadliest mass shooting in the United States since the Sandy Hook massacre in 2012, remain unclear. Police sources told the New York Times late Wednesday that the names of the victims were not being released. By Thursday morning, however, a portrait began to emerge of the shooters.
Farook and Malik were a married couple in their 20s. Farook, 28, and Malik, 27, wed two years ago, a family relative told the Los Angeles Times. Farook, who is a U.S. citizen, was also an employee of the local county health department, which was hosting a holiday party at the Inland Regional Center when the attack took place, CNN reported. They had a 6-month-old daughter who was left in the care of her grandmother during the attack.
Federal sources told the Los Angeles Times that Farook attended the party shortly before the shooting and reportedly stormed out after an altercation. When he returned, he and his wife were clad in masks in military-style armor. The pair came armed with handguns and rifles — two were purchased by the alleged shooters; all were legally obtained, according to CNN.
Farook was "very religious:" While no motive has been established, Farook's father said his son was devout. "He would go to work, come back, go to pray, come back. He's Muslim," he told the New York Daily News. There remains, however, no indication that religious extremism played a role in the attack.  
Those who knew Farook expressed shock as details emerged. He is not known to have any prior criminal record. "I would say 'hi' and 'bye.' But we never engaged him in conversation. He didn't say much at all," Griselda Reisinger, a former co-worker, told the Los Angeles Times. At a news conference from a California chapter of the Council on American Islamic Relations, Farook's brother-in-law, Farhan Khan, had no answers. 
"I have no idea why he would do something like this," he told reporters. "I have absolutely no idea. I am in shock myself."
Lingering questions: With Farook and Malik now deceased, it remains for everyone else to piece together why and how the attack went down. It is unclear whether the shooting was an act of religiously or politically motivated terrorism, or stemmed from a grudge Farook held against his employer, or something else entirely. The armor and collection of weaponry involved appears to indicate that the attack was planned rather than spontaneous, but that too is only speculation. 
This is a developing story and will be updated. 
Dec. 3, 2015, 12:51 p.m.: This story has been updated to reflect the confirmed number of people injured in Wednesday's shooting in San Bernardino, California.