Google Is Being Sued for Data-Mining Kids — Here's What You Should Know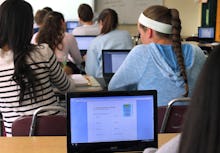 Civil liberties non-profit Electronic Frontier Foundation is suing Google for allegedly collecting Internet activity data from children in schools that use the tech giant's products, without parents' consent. Google has maintained the data mining was totally legal.
Through Google's program Google for Education, the company provides its Chromebook laptop and its Google Apps to nonprofit schools in the United States. The specially-designed apps are ad-free and purportedly ensure that "users own their data, not Google," in order to protect children's data — but in a Tuesday complaint to the Federal Trade Commission, the EFF said that by default, Chromebooks are designed to extract data from Chrome browsers installed on them to help improve Google products, which it said violates the law and the Student Privacy Pledge, a policy that protects the privacy of K-12 students' educational tech data. In a blog post on Wednesday, Jonathan Rochelle, director of Google Apps for Education, refuted the allegations. 
"While we appreciate the EFF's focus on student data privacy, we are confident that our tools comply with both the law and our promises, including the Student Privacy Pledge, which we signed earlier this year," Rochelle wrote. The blog post also "reiterate[s] some important facts" about "how [Google] keeps students' data private and secure."
According to Rochelle, the company uses the children's extracted data with complete anonymity along with data from millions of other users. "Our systems compile data aggregated from millions of users of Chrome Sync and, after completely removing information about individual users, we use this data to holistically improve the services we provide," Rochelle wrote.
The lawsuit said Google's tactics oppose the Student Privacy Pledge, which the company signed and therefore is a "violation of FTC rules against unfair and deceptive business practices," according to a statement released by the EFF.
"This allows Google to track, store on its servers, and data mine for non-advertising purposes records of every internet site students visit, every search term they use, the results they click on, videos they look for and watch on YouTube, and their saved passwords," the EFF said in the statement. The lawsuit also claims that Google "collects, maintains, and uses" the data "for its own benefit."