'A Very Murray Christmas' Netflix: Cast, Trailer and How to Stream Bill Murray Special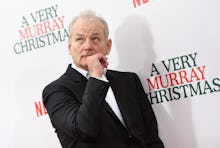 Netflix will debut Friday its first Christmas special, A Very Murray Christmas, led by Bill Murray. The special is set in New York City and stars Miley Cyrus, George Clooney and Maya Rudolph alongside equally famous Christmas jams, the New York Times reported. Sofia Coppola, who worked with Murray in Lost in Translation, directed the 56-minute special, which was co-written by Mitch Glazer, who wrote 1988's Scrooged.
"I waited months before looking at any of the stuff we shot," Murray told Vanity Fair in November about his TV special. "Months. I mean, I wasn't frightened, because I knew — I knew we really were great. I knew everyone was amazing. And in the moment of making it all, I thought, Holy cow. I've never done anything like this. I've never felt this way, done anything like this."
In the special, Murray's cabaret holiday show is put in fear by a snowstorm. "The entire city of New York has shut down," he said in the trailer, where he's stranded at the Carlyle hotel with David Letterman's former musical director Paul Shaffer, who plays Murray's pianist. 
Amy Poehler and Julie White play his producers and Michael Cera his manager, according to the Daily Beast. Murray also manages to run into Chris Rock and Rashida Jones. 
Netflix released a guide for their entire holiday movie selection for the month of December and the first two days of January.