This Man's Heartfelt Tribute to His Gay Dad's Wedding Will Make You Believe in Love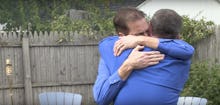 After the Supreme Court officially ruled in favor of same-sex marriage in all 50 states in June, many longtime same-sex couples tied the knot after decades of waiting for the right to do so. One of those couples was YouTube user Garzilly's dad and his partner Ricky, who waited 26 years before finally making it official in a simple yet poignant backyard ceremony. 
"Dad and Ricky have been together for 26 years, and Ricky has been a part of our lives for as long as I can remember," Garzilly narrates in a video tribute to his dad's wedding, before referencing the landmark Supreme Court ruling.
"Well, it's about time."
The six and a half minute video features touching scenes from the cozy at-home wedding ceremony and celebration, including messages from family members, champagne toasts, a lil' dance party to the epic 2000 pop jam "I'm Outta Love" by Anastacia and, of course, lots of family photos. 
The ceremony isn't just a reminder of why we love weddings so much. It's also a glimpse into the type of gay relationship we don't see represented enough in popular culture: A middle-aged gay couple that's been together for more than two and a half decades, long before the Supreme Court decision was close to becoming a reality. 
The video serves as a moving example of just how life-affirming June's ruling was for so many devoted couples throughout the country.
"So here's my question to you: When two people love each other, does anything else really matter?" Garzilly asks toward the end of the video, before answering himself:
"Not really."
You can watch the full clip below.
h/t GayStarNews