The White House Hosted a Panel on Inclusive Storytelling — Without Any People of Color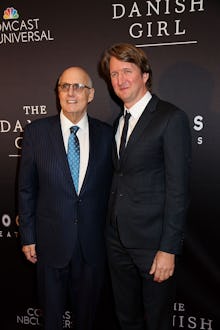 The White House made an effort to put together a panel on representation in film and TV last month. Ultimately, however, the final product looked colorless.
On Nov. 23, the White House hosted an event called "White House Champions of Change: LGBT Artists" designed to honor nine select artists identified by the White House as doing extraordinary things. The event included an introduction from senior adviser Valerie Jarrett, screenings of both new film The Danish Girl and the first episode of Transparent's second season and three panels. The first two panels included the nine so-named Champions of Change talking about "The Power of Speaking Your Truth" and "Art and Social Change in the Digital Age."
The third panel, titled "Inclusive Storytelling in Mainstream Media," featured some of the talent behind The Danish Girl and Transparent: director Tom Hooper for the former, creator Jill Soloway and star Jeffrey Tambor for the latter. Transparent producer and trans man Rhys Ernst also participated, and the panel was moderated by Raffi Freedman-Gurspan, the first transgender White House official. 
There was to be a sixth panelist, a White House spokesman confirmed, but a last-minute cancellation left an empty chair on the right side of the stage. The chair is seen in the photo below, submitted to Mic by a source who wished to remain anonymous because of their employer.
Of the panelists, two are straight, cis men, and the third is a straight, cis woman. Ernst is a transgender man. All are white. (The originally scheduled sixth panelist is also cis and white, though the White House spokesman declined to name the panelist on the record.)
Tangerine star Mya Taylor, a trans actress of color, was invited to attend the Champions of Change event as a guest. Representatives for the film asked event coordinator Aditi Hardikar, the White House's LBGT liaison, if Taylor could be considered for the "Inclusive Storytelling in Mainstream Media" panel. After consideration and a vetting process, she was turned down.
Magnolia Pictures, the distributor behind Tangerine, expressed disappointment about Taylor's lack of inclusion as a panelist in an email statement to Mic. "We were thrilled that Mya was invited to the White House for their LGBT event, which of course is an honor in itself," said Matt Cowal, Magnolia's senior vice president of marketing and publicity. "But we can't help but think it was a missed opportunity to forgo the voice of one of the few transgender women of color working in Hollywood right now ... when she was sitting right there in the room."
It's unclear how many other potential panelists beyond Taylor were considered. The White House declined to comment on the vetting process for this or any of the panels. Still, Taylor's presence in the room was clearly felt: The Washington Post reported that Hooper specifically "took a minute to recognize Taylor and Tangerine" during the event.
That said, from a representation perspective, the problem goes beyond a simple snub of one actress. "It's larger than Mya," Cherno Biko, actress and trans activist, told Mic. Biko was also in attendance at the event and was frustrated by the chosen panelists.
"It was disappointing to say the least, and I think made manifest the silencing that black trans women face in this country," she said. "That empty chair that Mya could have occupied represented that erasure and that silencing."
Living as a trans person in the United States is an experience that comes at great personal cost. At least 23 trans women and gender nonconforming people, most of them nonwhite, have been murdered in 2015. Hollywood continues to fail at representing even cis women and people of color, much less trans people of color. Doing so is vital: As the Caitlyn Jenner saga from earlier this year proved, representation of non-majority experience stories helps educate and empower viewers.
Even well-intentioned and well-executed works like Transparent and The Danish Girl feature cis, white men playing trans women. That's why a project like Tangerine is so important. It features trans women telling their own stories — and, as Taylor told Mic back in July, could inspire Hollywood to open up to them.
"I'm hoping that it opens up more doors for artists like me and Laverne [Cox] and Janet Mock and Ts Madison and Carmen Carrera," Taylor said at the time. "I hope it opens up doors for other girls other than us too."
A White House panel on inclusive storytelling is a fantastic idea, especially in how it clearly aimed to feature trans stories. Unfortunately, a panel makeup like this fails to capture the intersectionality of the LGBTQ community. Including people of color would have gone a long way toward inspiring conversations about privilege, differing experiences and more. As it stands, this panel was a good step — but only one step.
December 3, 2015, 5:19 p.m.: This story has been updated to remove a quote that contained inaccurate information about the artists selected as the White House's LGBT Champions of Change.