'Bad Boys 3': Release Date, Cast and Everything We Know About the Movie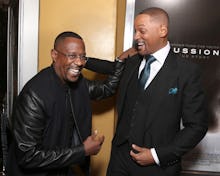 It's been 20 years since Will Smith and Martin Lawrence first joined forces to fight crime in Bad Boys. But last August, Sony announced its film schedule for 2017 and included a notable future release: Bad Boys 3 will premiere on Feb. 17, according to that list. While Smith and Lawrence have not confirmed that they will reprise their respective roles as detectives Mike Lowrey and Marcus Burnett, the film's IMDb page lists both as stars (noting that Smith's involvement is, at present, "rumored").
As Collider reported in October, Smith strongly suggested that the film would hit theaters on time. "There is a very, very, very strong possibility that you will be seeing a Bad Boys within the next 12 to 16 months," he told Beats 1 Radio, Collider reported. He did not clarify whether or not he will be acting in the film. 
Director and producer: Both Bad Boys and Bad Boys 2 were directed by Michael Bay and produced by Jerry Bruckheimer. For Bad Boys 3, it looks like a few changes are being made. Nothing is set in stone yet, but rumor has it that Joe Carnahan, whose most recent credits include The Grey (2011), The A-Team (2010) and Smokin' Aces (2006), will replace Bay as director for the next film in the Bad Boys series. Bay has been cranking out Transformers movies since 2007, with the fifth slated for 2017, according to a sparse IMDb page.
Writer: David Guggenheim, of Safe House (2012), Stolen (2012) and as-yet unreleased Weaponized, is reportedly writing the screenplay for Bad Boys 3.
Stars: Lawrence at least seems set to play Burnett in the third installment, as there's no "rumored" caveat next to his name on the IMDb page. The general assumption seems to be that he "has already been confirmed for the third installment of the action franchise," according to the International Business Times. 
Again, it's Smith the world is waiting on. As reported by Slashfilm, Bruckheimer explained the actor's conflict on a busy schedule: "It's so funny because we'll get Sony real excited to make the movie, and then Will [Smith] is off doing two movies. And then, Will will come back and be real excited about it, and Sony will say, 'Well, maybe it's not the time for this.'" Regardless of whether or not he acts in the film, Smith's involvement as producer, at least, is certain. But how could he say no to Martin Lawrence?
More good news: Fans won't have to wait another 12 years for the follow-up to 2017's movie. When Sony released its 2017 schedule, it also put Bad Boys 4 on the docket. Look out for it in July 2019. 
According to ComingSoon.net, the first Bad Boys movie pulled in $66 million in the United States and $141 million globally; 2003's Bad Boys 2 operated on a much larger budget, grossing $138 million at home and $278 million around the world.