There's a Dating Website for Disney Nerds and It's Probably More Popular Than You'd Think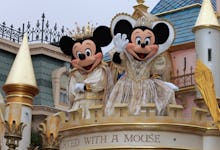 Here's a little pop quiz for you on Thursday morning: Which theme park is better, Disneyland or Disney World? 
If your immediate response was to gasp, shriek "Neither, you monster, that's like asking to choose between two of my children" and then launch into a diatribe assessing the merits of the cinnamon buns at the Cinderella's Royal Table breakfast buffet, congratulations: You are a huge Disney nerd. You are also probably single, because you are impossible to be around. 
Fortunately, there's some hope for you in the form of MouseMingle.com, a new dating website exclusively for socially inept dweebs in a state of perpetual adolescence Disneyphiles such as yourself (and, OK, this writer). 
Created by former Disneyland Railroad engineer Dave Tavres, MouseMingle matches Disney fans based on such crucial metrics as your favorite Disney characters, your knowledge of Disney trivia and whether or not you have annual passes to Hong Kong Disneyland. Because nothing says true love like ralphing into a trash can after a trip on Big Grizzly Mountain Runaway Mine. 
According to Mashable, Tavres was inspired to create the site in 2011, after taking a trip to the park with some friends.
"I'm pretty outgoing, but there hasn't been a good way to find single women who like Disney," Tavres told Mic. "I met a lot of friends-of-friends who were great, but they were already dating someone, or married. And for the single Disney-fan women I did meet, it wasn't usually a match." He created the site as a way to find women who shared his passion for all things Mouse-related.
"There are a lot of people who don't live near a Disney park who want to find that magical relationship," Tavres told Mic. "But for those who do live near a Park, they often like to go multiple times a month. If you communicate with someone on MouseMingle.com and want somewhere to meet, the Parks are a great place."
One might think that MouseMingle was yet another niche dating site for a small community of people, similar to the agrarian dating website Farmers Only or Tiny House Dating, a website exclusively for tiny house lovers. But the adult Disney fandom is larger and more mainstream than one might think: According to PopSugar, the company itself taps into its sizable adult market by releasing such collector items as Disney-themed adult jewelry and women's clothing lines. There's even a Tumblr subculture for women who dress up in Disney character-inspired clothes. (It's called Disneybounding, and it is awesome.) 
Whether the adult appeal of Disney stems from nostalgia or the general millennial refusal to enter adulthood isn't quite clear. But for $12.55 a month, you can join MouseMingle and see if you can find the Mickey to your Minnie (or the Donald to your Daisy, or the Chip to your Dale, because you just know those two were all up in each other's nuts). 
Dec. 6, 2015, 3:38 p.m.: This story has been updated.
h/t Mashable