This New Zealand Billboard Used Caitlyn Jenner to Make a Terrible Christmas Pun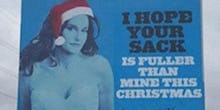 A New Zealand billboard has not exactly put those who see it in a Christmas mood. 
Cranium, a New Zealand signage company, got in trouble with New Zealanders after its signage was deemed transphobic, the New Zealand Herald reports. The billboard features a Photoshopped image of Caitlyn Jenner's Vanity Fair cover as well as the accompanying text: "I hope your sack is fuller than mine this Christmas." 
Since the billboard's reveal, Cranium's Facebook page has been flooded with negative reviews — as well as positive reviews from people defending the billboard and calling for others to have a "sense of humor." Prior to the billboard's mounting, Cranium hadn't had a review posted since April 2013. 
New Zealand transgender activist Mary Haddock-Staniland posted a message on her Facebook page addressing the billboard, after she claimed many media outlets asked her to comment. 
As Haddock-Staniland said, Cranium has removed the billboard and issued an apology on their Facebook page.
"We apologize to all those who have been offended by our sign," the statement reads. "It was very poor judgment on our part." 
Cranium also made a $1,000 donation to local LGBT organization Rainbow Youth, which confirmed the donation to the New Zealand Herald. 
A Rainbow Youth official told the Herald that "jokes shouldn't target transgender people who are already marginalized and over-represented in negative health statistics." 
After the sign's removal, Cranium director Phillip Garrett wrote a message on the company's Facebook, saying: "Cait is more then [sic] welcome to stay at my house with my family anytime. I will have a wine or a beer with her quite happily and it would be an honor."
Some, including Haddock-Staniland, were not happy with the post's tongue-in-cheek tone. 
As of publication, Haddock-Staniland's claim that Cranium's contact details have been removed is still true. 
Many members of New Zealand's transgender community and their allies are still not satisfied. One mother of a transgender child, Rebecca Jones, told the Herald that she wants a "face-to-face apology" and said Garrett was just trying to "save his reputation." 
Cranium at least reassured its Facebook fans the billboard had been properly trashed.