Muslims React to New York Post's "Muslim Killers" Front Page After San Bernardino Shooting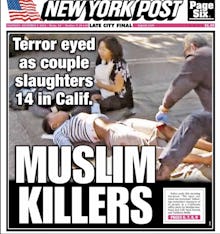 "It's despicable," Robert McCaw, government affairs department manager for the Council on American-Islamic Relations' national chapter, told Mic of the New York Post's front page.
A version of the New York Post's cover on Thursday features "Muslim Killers" in giant letters, over an image of injured victims from the San Bernardino shooting, and it has ruffled more than a few feathers. 
The subscribers' edition hard copy distributed early Thursday morning said "Murder Mission" before it was swiftly replaced with the controversial alternative for the second printing, which was distributed to newsstands. 
"I think it's the lowest common denominator of fear-mongering to change their front page to 'Muslim Killers,'" McCaw added. "It endangers the Muslim community and it seeks to legitimize anti-Muslim hysteria."
"Muslims are no more responsible for yesterday's terrible events than Christians are for Planned Parenthood," McCaw said of the Friday attack on the reproductive health organization, which left three people dead.
Farhan Khan Virk, a Muslim social and political activist in Pakistan, told Mic the front page left him speechless.
"This is not the first time something like this has happened," Virk said. "They are always looking to us Muslims to justify ourselves and we just came out of the Paris tragedy, where we had to do the same thing." 
McCaw explained the Paris attacks were responsible for a rise in violence and threats against Muslims in America and that CAIR has since received an unusually high number of American Muslims calling to report being targeted. 
"The people who shot the victims are psychopaths," Virk said. "In the history of the U.S.A. there have been so many Christian shooters, but you never see a newspaper cover which says 'Christian Killers.' You are isolating the entire community."
The sentiment of recklessness was felt amongst certain swaths of America. Twitter users, such as Pat Frederickson, called the newspaper "irresponsible."
This is what ISIS would want. Virk believes this kind of Islamophobia plays into the hands of the Islamic State group, who want to create a clear divide between Muslims and the rest of the world.
"The Islamic State, they are operating on the same fascist principles as Hitler, saying Muslims are the superior race and telling them they are different from everyone else," Virk explained. "But that's what the media is doing, too — telling Americans Muslims are different."
McCaw echoed Virk, saying the best way for America to protect itself against Islamic extremism is to pursue inclusivity rather than exclusion. "Becasue ISIS wants to separate Muslims from non-Muslims, the best way to stand up to terrorism is to stand together," he said. 
The Pakistani activist expressed his sympathies and concerns for Muslim Americans, citing the shooting of a Moroccan cab driver on Thanksgiving in what appears to be an Islamophobic hate crime. 
"The West must realize we need to live together," Virk said. "Muslims need to be integrated into the community as equals, they need to be respected, Otherwise nothing can be done to make a real change."
Correction: Dec. 4, 2015