This Civics Teacher Is Teaching Students to Effect Change By Boycotting Cafeteria Food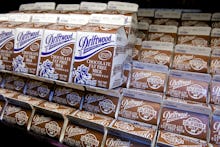 "Mystery meat" has long been a staple of school lunches, and the punchline for many a grade schooler's zinger. But that doesn't make it OK. In November, Chicago Public School students said enough is enough and started a petition calling for an end to the bruised fruit and unidentifiable slop they regularly find on their lunch trays. 
"Our school lunches ... are nasty. The options are too few, the portions are too small, the food tastes bad, and it is unhealthy. We believe decent food is a human right," reads the petition's opening statement.
Tim Meegan, a social studies teacher and union delegate at Theodore Roosevelt High School on Chicago's North Side leveraged his civic students' laundry list of cafeteria gripes to teach them how they can spur change in their communities.
"I wanted to do an action-based project," Meegan told Mic. "The kids brainstormed a list of things they'd like to change and we put them on a ballot. All of my classes voted overwhelmingly for this issue."
The students initiative, the School Lunch Project, offers a website outlining their grievances and proposing solutions. "At Roosevelt we get the same thing all over again with two options, pizza or hamburger. Often our milk and fruit cups are completely frozen," the site reads. "This is why many students don't eat the food and starve until they get home." 
And speaking of that hamburger, one photo posted to the site shows exactly how that nutritional value may be lacking:
"Aramark hamburgers exceed the USDA recommendations for blue plastic in their beef patties," a School Lunch Project-er wrote of the above image.  
Rather, students implored the school district to offer vending machines, an off-campus lunch option for upperclassmen, snack kiosks and a delivery area for students to order-in. On Monday, RHS students were encouraged to bring bag lunches and participate in the School Lunch Project's mass cafeteria boycott.
Reviving the #ThanksMichelleObama hashtag students around the country used last year to accompany photos of their sad school lunches, Roosevelt High students stated, "We remember Michelle Obama wanting to get CPS students to eat healthy. What we are eating is not healthy; sometime [sic] it's exasperating. Lunch time is the time where you eat and enjoy your free time."
Of course the bleak culinary situation has nothing to do with the First Lady. Rather it's the Chicago Public Schools's 2013 contract with foodservice provider Aramark Corporation that's saddled school kids with meals of frozen fruit cups and weirdly-hued poultry. So it shouldn't come as a surprise that in addition to schools, Aramark counts a large number of correctional facilities among its clientele. It's an irony not lost on Meegan's students, many of whom come from low-income and minority backgrounds. 
"Prisons get more options we consider to be good," the website reads.
"There's a great deal of inequality in Chicago public schools and it's from the top down," said Meegan. "We see some of that reflected in the foods that are available and the freedoms students have with lunch." Aramark, he said, has incentive to provide the lowest possible cost meal to students to maximize their own profit: currently the company aims to spend $1.50 on each lunch served.
"Our school lunches ... are nasty. The options are too few, the portions are too small, the food tastes bad, and it is unhealthy. We believe decent food is a human right."
Though any solutions would have to first meet government standards, students and parents across the country agree with the core message of the project and the petition, with the latter already surpassed the goal of 750 signatures, with another 837 signatures on paper from the students' original campaign. 
So far Roosevelt's principal has been responsive to their calls for reform, agreeing to bring back vending machines to the school—the first of their requests.  Next Meegan's students will go to the board of education. 
"For years students and teachers have felt they have no voice in their school system and no voice in their city government. We're exploring ways to achieve little victories and I want these kids to feel what it's like to win because that becomes such a motivating thing," he said. "It inspires them to push for other issues of social and economic justice in the future."
In a statement, Chicago Public Schools spokeswoman Emily Bittner said, "CPS has a school lunch program that provides healthy, nutritious lunches at no cost to students throughout the district. Not only does CPS exceed federal nutrition guidelines, we also enjoy working with student and parent groups to test our meals and develop menus. CPS is happy to work with the students of Roosevelt to hear their concerns and address their needs, and look forward to meeting with them this week."
Dec. 8, 2015. 4:30 p.m. This story has been updated to include comment from the Chicago Public Schools.