King's Debut Album 'We Are King' Arrives in 2016 — Here's a Trailer and Everything We Know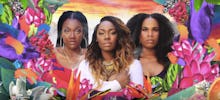 You may have never heard of King, but there's a good chance you've listened to these three soulful performers before. Paris and Amber Strother, along with fellow artist Anita Bias, have had their vocal stylings used by the likes of Kendrick Lamar (in "Chapter Six"), have been in the music scene for over four years, producing a viral internet hit called "The Story," and are even Grammy award-winners. 
King is now preparing to release its debut album, We Are King, under their own music label, King Creative. The group released a vivid trailer to get music heads in the mood for some soul on Thanksgiving via Twitter: 
King's debut album is expected to become available on iTunes Feb. 5 and will consist of 12 songs. Below is the track list, according to Apple:
1) "The Right One"
2) "The Greatest"
3) "Red Eye"
4) "Supernatural (Extended Mix)"
5) "Love Song"
6) "In The Meantime"
7) "Carry On"
8) "Mister Chameleon"
9) "Hey (Extended Mix)"
10) "Oh, Please"
11) "The Story (Extended Mix)"
12) "Native Land"
Source: Soundcloud
What makes the band so unique is its uncanny ability to connect with fans not only through social media, but through their genuine style and spiritual sound. "Love is our main focus," Bias told LA Weekly in 2011. Paris agreed, adding, "People ask, 'How are you so positive?' We don't really know any other way to be ... We always thought of ourselves as in charge of our own musical kingdom."
Fans have been preordering the album and expressing their excitement via Twitter since the announcement came on Thanksgiving: