Here's Donald "I Cherish Women" Trump Signing a Female Fan's Chest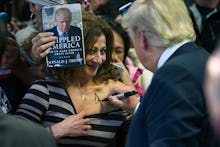 Another day, another piece of undeniable evidence that Donald Trump really does "cherish" women. 
He may make period jokes about us and insinuate that we don't deserve to lead the country unless we have a "beautiful face," but at the end of the day, Donald Trump can't hide his unflinching respect for the female kind. 
At a campaign gathering on Wednesday in Manassas, Virginia, Trump put that unquestionable reverence for women on full display as he signed a female supporter's most important body part — her chest. As one Twitter user remarked, the partial hiding of the Trump's book behind the woman left little pun-making to the imagination.
Imagine the backlash if President Obama did something like this. It would be criticized as unpresidential, offensive and shocking. But for Trump, it's shrugged off as part of his brand.
If the presidential election were a movie, it would be American Pie, and Trump would be Stifler. First he was funny, but now the joke is getting old.