Will Adele Do a US Tour in 2016? Here's the Latest on What We Know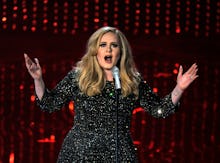 When Adele announced in November on social media her plans to go on tour in 2016, following the release of her latest album 25, her fans uniformly flipped. "I am of course coming on tour," she said, promising that she would "see you all very, very soon!" But by "you all," Adele apparently meant a disappointingly select few. 
Where's Adele? The schedule posted on her website plots a 15-week tour of the U.K., Ireland and Europe, which will begin at the SSE Arena in Belfast, Northern Ireland, on Feb. 29. Fans in around the world, including in the United States, not content with a hello from the other side of the pond, have continued to plead with the singer to expand her travel plans. 
Is a U.S. tour on the horizon? Refusing to accept omission for a definitive answer, the Internet has billed her concert calendar as the "European leg" of her world tour. In advance of the formal announcement, one Reddit user posted a rumored schedule for Adele's 25 Tour 2016 that has the singer stopping in North America and Oceania. 
A Tuesday tweet from TBA, a blog run by SeatGeek, claimed that the singer had "unleashed her first round of impending world tour dates," while a Monday update to the site's tour date tracker promises, "They're coming, America!" 
Wishful thinking, maybe, but not outside the realm of possibility. Inquiring minds demand answers. Will Adele be adding American cities to her list of stops on the 25 tour? Here's what we know so far.
Not unprecedented: Adele has toured the U.S. before, most recently in 2011, when she was forced to cancel many of her dates due to a vocal cord hemorrhage. Following the cancellation, Adele told her fans in a post on her website, "I will be back, and I'm gonna smash the ball out the park once I'm touring again," according to MTV. 
Following surgery to her vocal chords, Adele spoke with Anderson Cooper of CBS' 60 Minutes in February 2012 and gave her first post-op performance. Adele told Cooper she had "never felt more confident in her singing," but wasn't ready to hit the road again. "If I decide to go on a 200-date world tour, it [the vocal cord hemorrhage] would happen again," she told Cooper. 
Fast-forward to 2015 when Adele dropped "Hello" on Oct. 23, her first single since "Skyfall" in 2012. Six days later, during an Oct. 29 interview with Ryan Seacrest, infamously stage-wary Adele said, "I definitely will do as many shows as I've always done before. I'd love to do a world tour, and I'd love to be able to say I've done it in the end, but I don't know if I'm strong enough for it." 
The question: Is Adele strong enough? It certainly seems so. She's performed on Saturday Night Live since the release of 25 and recorded a holiday special at Radio City Music Hall on Nov. 17, a teaser for which is available here.  
"I have been bluffing this whole time." In August, the Daily Mail reported that Adele had turned down a nearly $121 million offer to tour 25 — not necessarily surprising. As the Mirror reported, Adele has said that fame is both "quite frightening" and "very toxic," and that "there is something quite lonely about going on stage in front of loads of people and then everyone going home." The Mirror also cited a Facebook message she wrote to her fans, in which she classified 25 as a means of making up with herself, writing the album is "making up for lost time. Making up for everything I ever did and never did." 
Ever did and never did as in a world tour, perhaps?
In her video announcement of the U.K. and European tour, Adele copped to having conned us all when it came to her reticence about touring. "I have been bluffing this whole time," she says in the video. 
"Of course" she's touring, because how can she not? The official Vevo video for "Hello" has been viewed nearly 600 million times on YouTube to date. According to USA Today, the singer sold more than 4 million copies of her most recent LP, 25, in 10 days, which makes it the fastest-selling album in the history of albums. Projected sales figures for 25 were so staggering that WME reportedly proposed to Apple a $30 million sponsorship deal for an Adele world tour, before the album even dropped. 
The success of 25 is staggering. It is record-smashing. It is the kind of thing that usually warrants a whole-nine-yards tour. 
If it doesn't happen, though — if Adele sticks to her guns and her current schedule — American fans can at least be grateful to have avoided the fiasco that is attempting to buy tickets on Adele.com. Regardless, Mic will keep the updates coming as more information becomes available.