A Criminologist Explains the Devastating Truth About Mass Shootings in America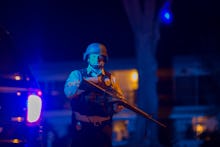 "There is no end." 
That was the only conclusion James B. Jacobs could reach on the subject of gun violence in the United States. He should know: Jacobs is a New York University law professor and director of the school's Center for Research in Crime and Justice.
In the aftermath of two back-to-back mass shootings, first at a Planned Parenthood in Colorado Springs, Colorado, which left three dead, and then at a center for the developmentally disabled in San Bernardino, California, which resulted in 14 additional fatalities, there is renewed handwringing over the age-old issue of gun control. 
Jacobs told Mic that the outlook was not good. 
"California has very tough gun control. They have everything that proponents of gun control have asked for," he said, adding that mass shootings were unfortunately just part of the fabric of American life — something we just have to get used to. 
"There are other social problems we live with ... or die with," he said. "I really don't know what we can do." 
Indeed, while California does have some of the nation's toughest gun control measures, including virtual bans on a number of weapons categorized as "assault weapons," prohibitions on their ownership by felons and many, many others, local and state authorities were unsuccessful at preventing the most recent carnage. 
Jacobs said that in the absence of "pie-in-the-sky" measures like repealing the Second Amendment, mass shootings in America were here to stay. 
Still, gun control activists are not convinced California's measures are ineffective. They insist that in the absence of federal standards, the issue is the ease in which people can simply procure guns from other states.
"As of this moment, authorities have not yet revealed where [the San Bernardino] weapons were purchased. Neighboring states such as Nevada and Arizona have very weak gun laws, and guns can cross state borders as easily as a car can," Kate Folmar, deputy communications director for the gun control advocacy group Everytown for Gun Safety, told Mic. "But it is simply untrue that gun laws don't make us all safer. The evidence is clear that common-sense laws keep guns away from dangerous people and save lives." 
The evidence is clear that common-sense laws keep guns away from dangerous people and save lives." 
Folmar said data collected by her organization showed that between 2009 and 2015, states that require background checks experienced 52% fewer mass shooting incidents than states that did not require background checks. In addition, these checks resulted in a 46% reduction in women shot to death by intimate partners, and police in background-check states were 48% less likely to be shot dead with a handgun. 
Meanwhile, the NRA, the United States' most influential gun lobby, has coerced and bullied the federal government from allocating funds to gun-control research.
Both Everytown and Jacobs cited suicide as the primary cause of the roughly 88 gun deaths per day in the U.S., but here too, evidence suggests that making firearms more difficult to obtain could move the needle significantly. According to research published by Harvard's School of Public Health, those who attempt suicide are considerably more likely to succeed if they do so with a firearm. In all, 90% of suicide survivors do not ultimately go on to die by their own hand. 
In 2013, 33,636 people were killed in the United States by a firearm; 21,175 were from suicide.  
Many have publicly dismayed that if the carnage of dead children at Sandy Hook in 2012 was unable to establish a new American consensus on gun violence, no number of future massacres would do the job. With mass shootings becoming essentially a daily occurrence, however, pressure for some action is only likely to build.
"Certainly more action is needed," said Folmar.