Deftones New Album Is Coming in 2016 — Here's Everything We Know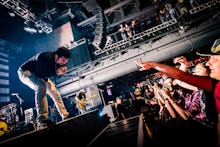 Alt-metal band Deftones has a new album coming out, and according to band members Frank Delgado and Abe Cunningham, it will be released early next year, British music site NME reported.
The as-yet-titled album will be the band's first new release since 2012's Koi No Yokan. The new album was rumored to be scheduled for a November release, but the band has since confirmed that it won't arrive until 2016.
The dates are already up for an Australian tour  stops in January and a European tour in June, which includes dates in London, Australia and Germany. The band was forced to cancel planned performances at Paris' Le Bataclan theater after November's terrorist attack.
"Some of us were in attendance at the Le Bataclan, and the rest of our family, just blocks away on this night," Deftones posted on its Facebook page two days after the attack. "With this being said — and with our deepest condolences, love and respect to everyone affected and to all of us who share this planet — we must return home to our loved ones. We will return when appropriate."