2016 Lollapalooza Festival Is Getting Bigger and Adding More Bands — This Is What We Know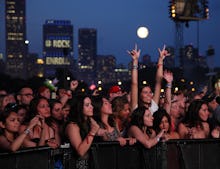 To commemorate its quarter century, Chicago-bred mega music festival Lollapalooza announced on Thursday that festival organizers will add a fourth day to this year's event. The annual festival, which next year starts on Thursday, July 28 and runs through Sunday, July 31, will offer more bands than ever before, and add to the festival's astronomical growth since it began in 1991. In its first year, Jane's Addiction frontman Perry Farrell organized a weekend of performances as a pet project, and the lineup boasted just nine bands.
As proof of that growth, Lollapalooza ticket prices spiked a full 39.6% in 2014, according to Forbes, as a number of big-name musicians joined the lineup. And since 1991, some 1,200 artists and bands have performed at Lollapalooza, according to the Chicago Tribune. It appears event organizers are going to keep the momentum of that growth rolling.
"It's our 25th Anniversary and we wanted to do something really special and different for our fans," said Lollapalooza founder Farrell, in a press release. "There's a lot of really great music coming out in 2016; with the abundance of talent that wanted to help us celebrate 25 years we got to thinking...'How are we going to fit all those great artists in one weekend?'"
The added day could have a lot to do with a surplus of big-name bands interested in securing a spot on Lollapalooza's staged. According to Redeye, the festival's organizers received 50% more submissions from "credible bands" hoping to perform this year. And thought the official lineup has yet to be released, the increase in interest from legitimate bands, coupled with an added day, could mean festival planners have made space for some big name acts.
While potential concert-goers wait for event planners to divulge who will be performing this year, the lineup for the 2016 Lollapalooza festival in Argentina has been released, which could give music fans a sense of which musicians are top-of-mind for Lollapalooza organizers or — at the very least —who is currently touring. Here's the lineup for Lollapalooza in Argentina, which kicks off March 18, 2016.
A four-day ticket to the musical extravaganza in Chicago will be priced at $355 and one-day tickets will be sold for $120. Though the bill of musicians remains uncertain, once this is clear, per Farrell. "It's going to be a fantastic party," he said in the press release. 
Head to Lollapalooza's ticket page to purchase passes and to stay up to date on festival announcements. Here's a few photos last year's Lollapalooza in the Windy City: