These are the Best Christmas Movies on TV This Holiday Season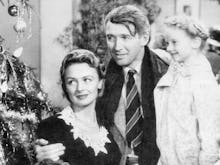 It's the most wonderful time of the year: time to grab some hot cocoa with those mini marshmallows, make cocoons of throw blankets and binge watch It's a Wonderful Life, A Christmas Story, Home Alone and all the other Christmas movies that saturate the television schedule during the holiday season.
Holiday movies have been taking over television since November. A simultaneously merry and nauseating number of Christmas movies are already airing and will continue to play days after Christmas. 
Here's a filtered schedule of some of the most popular movies on television this holiday season, per TV Guide:
Dec. 4: I'll Be Home for Christmas — ABC Family, 10 a.m. Eastern
Elf — ABC Family, 7:30 p.m. Eastern
Dec. 5: Tim Burton's The Nightmare Before Christmas — ABC Family, 12:30 a.m. Eastern
It's a Wonderful Life — NBC, 8 p.m. Eastern
National Lampoon's Christmas Vacation — ABC Family, 10 p.m. Eastern
Dec. 7: Love Actually — ABC Family, 1 p.m. Eastern
Dec. 19: I Want A Dog For Christmas, Charlie Brown — ABC, 8 p.m. Eastern
Dec. 23: I Love Lucy Christmas —  CBS, 8 p.m. Eastern
Dec. 24: A Christmas Story — TBS, 8 p.m. Eastern
It's a Wonderful Life — NBC, 8 p.m. Eastern
A Charlie Brown Christmas — ABC, 9 p.m. Eastern
Dec. 25 — CMA Country Christmas — ABC, 8 p.m. Eastern