'Guardians of the Galaxy Vol. 2' Movie: Plot, Cast Info and Latest News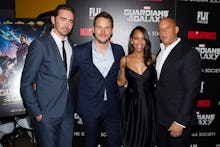 Guardians of the Galaxy Vol. 2, the follow-up to the Academy Award-nominated Guardians of the Galaxy, is coming to theaters May 5, 2017, from the same director, James Gunn. The first movie's gang is set to return with Chris Pratt as Peter Quill, aka Star-Lord; Dave Bautista as Drax, Michael Rooker as Yondu, Zoe Saldana as Gamora, Bradley Cooper as Rocket Raccoon and Vin Diesel as Groot. Newcomer Pom Klementieff, as Mantis, has also joined the cast lineup, via IMDb.
What we know about the plot so far: The sequel is "not about leading up to anything else; it's about the Guardians and their lives," Gunn said in a Facebook live Q&A in early October. "My interest is to tell stories that are deeper and better about the characters we've already known," he said regarding a crossover between Marvel's Guardians and the Avengers. So don't expect many plot twists. 
No trailer has been released yet; Gunn tweeted in late November that the script, of which he's the sole writer, is just about finished. But the end of the first movie alludes to some answers that might be found in the second installment, such as the identity of Star-Lord's father and care of The Orb. 
In August 2014, Gunn told Empire Online that Star-Lord's dad is "definitely not the character who it is in the comics." Jason of Spartax, or Emperor of the Spartoi Empire, is Quill's dad in the comics.
The villain of the film has also yet to be decided. Matthew McConaughey was wanted but recently passed on the opportunity, according to Variety. "There's the Guardians themselves and other threats the Guardians are going to be facing that are not Thanos," Gunn told Empire Online regarding Thanos making a comeback as the villain.
Production for the film is expected to start in early 2016, Variety reported. The soundtrack for the film has already been chosen by Gunn, according to his Twitter.