Here Are the Names and What We Know About the Victims of the San Bernardino Shooting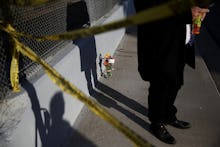 Officials and family members began revealing on Thursday the names of the 14 victims killed in Wednesday's mass shooting at the Inland Regional Center in San Bernardino, California. The shooting rampage left an additional 21 people injured. 
The San Bernardino County Health Department was using space in the building at the time of the shooting for an event. Two suspects were killed in a shootout with police; a possible third suspect has been detained.
Names of the victims are still emerging. Here's what we know about the victims who have been identified by ABC 7 Los Angeles and KTLA 5 thus far. 
Nicholas Thalasinos: Thalasinos was identified to officials on Thursday by his wife, Jennifer Thalasinos. He was an environmental inspector for the San Bernardino County Health Department. 
He worked with one of the suspects, Syed Farook, in the department's environmental division. In an interview with the New York Times, his wife said Thalasinos was in the same "little group" of employees with Farook. A GoFundMe page for his memorial said he and his wife "had a very deep, spiritual relationship."
His wife also told the New York Times that the two were "devout Messianic Jews."
"My husband was very outspoken about ISIS and all of these radicalized Muslims," she told the New York Times, adding, "If he would've thought that somebody in his office was like that, he would've said something."
Michael Wetzel: A family representative told ABC 7 that Wetzel was a father of six and a husband. 
On a YouCaring fundraising page set up in his memorial, organizer Celia Behar wrote, "We are heartbroken for the Wetzel Family" and "every little bit counts."
Damian Meins: Meins was an employee at the San Bernardino County Health Department, the Los Angeles Times reported. In an email a former co-worker, Juan C. Perez, wrote that Meins was a "bright light" that had been "extinguished from our world in a most tragic way," according to the Times.
"I will always remember Damian as a caring, jovial man with a warm smile and a hearty laugh," Perez wrote.
Larry Kaufman: 42-year-old Kaufman ran the coffee shop in the conference center building that the San Bernardino County Health Department had been using that day, the Times reported.
Updated on Dec. 3, 2015, 7:19 p.m.: On Thursday evening, the San Bernardino County Coroner released the names, ages, cities and dates of birth all 14 victims in the shooting:
• Shannon Johnson, 45, of Los Angeles, born March 6, 1970