Bernie Sanders Pulls Closer to Hillary Clinton in New Hampshire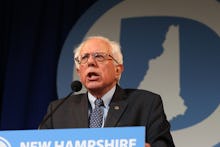 Sen. Bernie Sanders (I-Vt.) has moved into a statistical tie with Hillary Clinton in New Hampshire, stanching the bleeding after losing his lead over the former secretary of state in the first-in-the-nation primary state.
That's according to a Public Policy Polling survey released Thursday, which showed Clinton with a nominal lead over Sanders, taking 44% of the vote to his 42%. Former Maryland Gov. Martin O'Malley was a distant third, registering 8% support. 
In PPP's last New Hampshire poll, Clinton bested Sanders 41% to 33%. That poll was conducted in mid-October, after Clinton's commanding performance in the first Democratic debate and just before she won rave reviews for her marathon testimony before the House Select Committee on Benghazi. 
Behind the numbers: Clinton's strong October followed months of unflattering headlines surrounding her use of a homebrew email server as secretary of state. As questions about Clinton's email practices mounted, Sanders drew record crowds to his campaign rallies, and Vice President Joe Biden contemplated a late entry into the race, the once-inevitable Clinton suddenly looked evitable: Sanders started posting wider leads in New Hampshire and moved ahead in some Iowa polls. Powered by small-donor support, Sanders came close to matching Clinton's fundraising haul in the financial quarter that ended Sept. 30.
But that may have been the nadir of Clinton's second White House bid, rather than a precursor to a loss even more stunning than her 2008 defeat at the hands of then-Sen. Barack Obama (D-Ill.). Biden, whose support had largely come at Clinton's expense, ultimately opted not to seek a job promotion, and Clinton's deflection of GOP attacks during her Benghazi committee testimony helped her shore up Democratic support. She has since moved back into an overwhelming national polling lead and regained ground in Iowa, where she leads by 11 points, according to the Real Clear Politics polling average.
New Hampshire, where the Sanders surge had its genesis, has largely been all over the map this fall, as Politico noted on Monday. Some polls have shown Clinton taking a modest lead with others showing Sanders still on top, but by a smaller margin than he enjoyed late this summer. The Real Clear Politics average currently gives Sanders a two-point edge in the state.
If there's any lesson in the volatility in Granite State polling, it's that the Democratic race remains far from settled there. Of course, a virtually tied race represents a drastic improvement for Clinton from the dog days of summer — but it's also a reminder that Sanders has far exceeded the low expectations he faced when he launched his insurgent bid this spring.