San Bernardino Shooting: List of Weapons and Explosives Found Inside Suspects' Home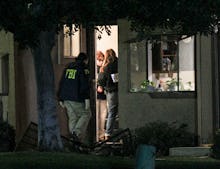 Authorities found explosives and a stockpile of ammunition inside the home of Syed Rizwan Farook, 28, and Tashfeen Malik, 27 — two suspects in Wednesday's mass shooting at the Inland Regional Center in San Bernardino, California, which left 14 people dead and 21 others injured. 
Here's what was found in the suspects' house, according to police: 
12 pipe bombs, which consist of explosive material secluded to a sealed off portion of the mini device, capable of unleashing deadly shrapnel
What was found in the suspects' rental SUV:
1,400 .223-caliber rounds strapped on the suspects' persons and in the vehicle.
200 9 mm rounds all strapped to suspects' bodies
What was found at the Inland Regional Center:
About 65 to 75 rounds fired from multiple rifles
ABC affiliate KMGH-TV reported the Redlands residency in which Farook and Malik lived was found to have been loaded with an arsenal of weapons, ammunition and tools to make explosives after the two were killed in an SUV after an exchange of gunfire erupted between them and police.
Reports also indicate the couple brought their 6-month-old child to the home of her grandmother, who was unaware the two were suspects in the shooting until a reporter called her.