California Gun Laws: Age, Restrictions and Requirements for Buying Firearms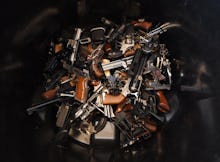 Before the dust could settle after the fatal shootings that erupted in San Bernardino, California, on Wednesday, which killed 14 people and injured at least 21 more, the conversation on Thursday swiftly turned to gun control and the recent pervasiveness of gun violence in the United States. Compared to other states, California's gun laws are actually among the toughest in the country. 
"In 2007, California became the first jurisdiction in the nation to require handgun microstamping and, in 2014, was the first to enact a Gun Violence Restraining Order law to help keep guns out of the hands of dangerous people," according to the Law Center to Prevent Gun Violence. 
Who cannot legally posses guns in California? Per the California Firearms Laws Summery, five conditions can make a California resident illegible to possess a gun, among them having been convicted of a felony, for being a sex offender or for being "found by a court to be mentally incompetent to stand trial or not guilty by reason of insanity of any crime."
The laws also have mechanisms in place that issue a 10-year prohibition on gun possession to any Californian convicted of certain misdemeanors, and a 5-year prohibition on gun possession to "any person taken into custody as a danger to self or others, assessed, and admitted to a mental health facility."
There are also certain restrictions against owning firearms for Californians who committed certain crimes as juvenile, in addition to a number of "miscellaneous prohibitions" that include people whose felony charge resolution is pending, any one who is addicted to narcotics. And if any California resident admits to a psychotherapist that they've verbalized a threat to a "reasonably identifiable victim," that person is barred from possessing a gun for six months. 
Requirements: The California Firearms Laws Summery details a lengthy list of requirements to okay the legal sale and transfer of guns to California's residents. 
The first hurdle for potential gun owners is a 10-day waiting period, during which time the Department of Justice carries out a firearms eligibility background check to make sure the individual applying for a gun license doesn't fall into one of the exempt categories detailed above. 
Baring some exceptions, according to the summery, "all firearms purchasers must be at least 18 years of age to purchase a long gun (rifle or shotgun) and 21 years of age to purchase a handgun (pistol or revolver). Additionally, purchasers must be California residents with a valid driver's license or identification card issued by the California Department of Motor Vehicles."
California gun laws put in place a number of additional requirements after the initial background check. Potential gun owners are required to get a handgun safety certificate, which calls for a minimum score of 75% on a written test and for candidates to pass an in-person safety demonstration test. Possible gun owners also need to prove that their weapon is up to the DOV's safety regulations, and potential firearms buyers are restricted to one hand gun application during any 30-month period. 
Any person caught carrying a concealed handgun while also in possession of ammunition could face felony charges. For an exhaustive list on further restriction, requirements and the many nuances of California's gun laws, here's the firearms summer PDF. 
Calls for stricter laws in wake of San Bernardino shooting: Despite California's reportedly stringent gun laws, President Barak Obama called for greater legislative action at the national level to combat the level of gun violence in America. 
"I do think that as the investigation moves forward, its' going to be important for all of us, including our legislatures, to see what we can do to make sure that when individuals decide they want to do somebody harm, we'll make it a little bit harder for them," Obama said, addressing the nation during a televised speech on Thursday morning. "Because right now it's just too easy." 
According to Obama, gun regulation is a process that will undoubtedly take time. Yet as it stands, here's what we know about California's gun laws: