11 Movies and TV Shows That Best Represent What 2015 Was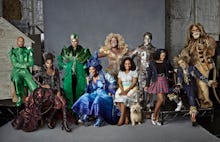 In many ways, 2015 was a year of progression. Themes of diversity and women-first storytelling wove their way into not just national conversations, but into the mainstream arts as well. After years of Hollywood failing to properly represent its audience, things finally started to move forward this year.
Movies about women brought the box office back from the brink. Shows about nonwhite characters dominated both critically and commercially. And a trans woman became the most compelling media story of the year. Even just one year ago, such revolutionary change in film and TV seemed only slightly possible. 
There's much that still must be done, of course, but 2015 proved an exciting step forward. Looking back, these 11 shows and movies stand out as exemplary of that change.
Inside Amy Schumer
There may have been no better episode of television this year than "12 Angry Men Inside Amy Schumer." A frame-by-frame recreation of 12 Angry Men, the episode-long Inside Amy Schumer sketch investigated the question of whether Schumer was "hot enough" to be on TV. Of course, in Schumer's truly individual style, it was a much deeper piece — this time about criticism of women in pop culture.
The sketch was exemplary, but not extraordinary: Calling out sexist double-standards comes second-nature to Schumer. To have such a brazen female voice arguing passionately for women — and actually captivating audiences — is what's extraordinary. Combined with Trainwreck, her summer blockbuster, and her HBO special, Schumer dominated the year in a way no other single artist did. She was easily the top entertainer of 2015.
Unreal
Haven't heard of Lifetime's first prestige drama? There's no better time to watch Unreal's stunning first season than the present. Like Inside Amy Schumer, Unreal is all about women; unlike the former series, this is all about pain.
Set behind the scenes of a Bachelor-esque reality show, Unreal tells the story of Rachel (Shiri Appleby), a producer who hates her job but can't stop being really damn good at it. She's tortured by her manipulations of other women, all while wearing a "This is what a feminist looks like" shirt. The series shows off every single wart of the process, and Rachel in the process becomes one of TV's great antiheroes.
In the year of Taylor Swift learning feminism isn't just about friendship, a show like Unreal is so necessary. The equality of the sexes means needing to see and understand the difficult parts of other people both male and female. In that way, one could call Unreal the most feminist TV series of the year.
I Am Cait
How many people watched I Am Cait this year? Not many. It's hard to blame anyone, either; the show was marketed to a Keeping Up With the Kardashians audience, with that audience then being expected to watch a slow, thoughtful meditation and education on the trans experience. It's been picked up for a second season, but it's hard to imagine E! will have any better luck drawing an audience in 2016 than in 2015.
That doesn't make I Am Cait or Caitlyn Jenner's journey any less important, though. In fact, the opposite is true. One giant public figure coming out as a trans woman does not change things for the scores of trans women murdered this year. Jenner can use her privilege as effectively as possible, but it takes more than a season of television — and it requires attention.
Jenner's coming-out was the biggest celebrity media story of the year. Her series was a stately, educational follow-up on that. Yet I Am Cait's greatest importance is what it will hopefully inspire next.
Empire
This time last year, America did not know Cookie Lyon. They had not heard Taraji P. Henson tell Terrence Howard's Lucious Lyon that if he wanted Cookie's nookie, he needed to "ditch the bitch." Empire was but a promise of the winter TV season, and no one could have predicted the phenomenon it became.
Admittedly, Empire's ratings have dropped significantly in season two, making this less of a celebratory occasion than it would have been last May. Back then, Empire was a sign of network TV's resurgence. This fall season, by comparison, has been abhorrent both for critics and consumers. Empire weakening feels like a metaphor for that.
Still, it's worth remembering two things: One, it's still winning the ratings war in many respects; two, this phenomenon came about in large part because it presented the still-underrepresented black family and inspired other shows to do the same. That, alongside Henson's astonishing work, is worth celebrating no matter what.
Mad Max: Fury Road
The hyperbole around Mad Max: Fury Road is infectious. "A miracle," i09 called it. "Masterpiece," said the Huffington Post and Forbes. New York magazine's Bilge Ebiri went a step further on Twitter as soon as the film's review embargo broke back in May.
Even if overstated, can critics be blamed for getting so excited? There's a manic, propulsive energy to Mad Max: Fury Road that made it this year's best roller-coaster ride. More than that, it included incredible female characters and a feminist message unlike any other blockbuster this year. If only all our biggest-budget films could be so thoughtful about women, instead of just barely passing the Bechdel-Wallace test.
Spy
Speaking of women-first blockbusters, though, the reigning queen of them came roaring back in 2015 with the most surprisingly feminist work she's done since Bridesmaids. Is Spy Melissa McCarthy's best movie ever? Maybe! It's certainly the most intelligent in years, and not just by surpassing work like Identity Thief.
No, Spy is independently great, featuring a world of women kicking ass (McCarthy, Rose Byrne, Allison Janney, Miranda Hart) and scores of men serving as punchlines (Jason Statham, Jude Law, 50 Cent). The story about a CIA agent with no agency does one of the most daring things in cinema this year: It lets us see her choosing what she wants her life to be, from the direction of her career to the appearance she's going to show the world. 
Director Paul Feig even pokes fun at his own tendency to put McCarthy in silly wigs and outfits because he surely knows she's so much better than that. She's a movie star.
Jessica Jones
It took Jessica Jones and Jessica Jones to finally make a Marvel film or show more than just the cinematic equivalent of cotton candy. In Netflix's latest show, Jessica (Krysten Ritter), a former superhero with post-traumatic stress disorder, faces incredibly non-super problems. There's a frank examination of sex post-assault. Jessica's sexuality is complicated. Maybe most impressively, the series gave the Marvel universe one of its most menacing villains in Kilgrave (David Tennant), the embodiment of the patriarchy's worst sins.
The content of the series is heavy, likely requiring a bevy of trigger warnings and brain breaks between binge sessions. It's one of 2015's most intense TV shows — not for the fight scenes, but for the psychological density. How incredible is it that Marvel was the studio that brought such an important work to the fore?
Tangerine
Tangerine feels like some sort of 2015 jackpot. It represents creators using new forms to better directly connect to an audience (Sean Baker directed the entire film on iPhones). It's a story about two women. Those women are trans women of color and played by trans actresses. All this alone would make it worthy of this list — for nailing exactly what this year meant.
Yet Tangerine is also a fantastic film. The energy crackles from the first scene on, with stars Mya Taylor and Kitana Kiki Rodriguez's electric chemistry sustaining the engine. The film itself is just gorgeous, looking far more expensive than its tiny budget. It is to independent film what Mad Max: Fury Road is to action films. Hyperbole? Not even. Now that Tangerine is streaming on Netflix, everyone can see for themselves.
Quantico
Of all the titles on this list, Quantico is the worst on a qualitative level. That's not as much of an insult as it sounds either. Give it to creator Josh Safran (Gossip Girl, Smash) and the cast, specifically Bollywood crossover star Priyanka Chopra: They're committed to an oft-wild, never quite sensical vision of a group of FBI recruits. Viewers are loving it too. 
On the spectrum between popcorn and prestige television, Quantico sits proudly with Orville Redenbacher's in hand, coming up with a deliciously devious plan to off the prestige shows. It is high soap, looking like what the child of Scandal and Revenge might be. Quantico isn't the only example of fast TV out there — it's the norm — and that's exactly why it serves as such a stellar example of 2015.
Unbreakable Kimmy Schmidt
Don't mistake Unbreakable Kimmy Schmidt's sunny exterior for it being a Parks and Recreation knockoff. Yes, both shows have delightful female protagonists taking on the world in optimistic style. Yet the worst inconvenience that's happened to Leslie Knope on her way to the top can't come close to the trauma Kimmy Schmidt (Ellie Kemper) has faced in her life. "The worst thing that ever happened to me happened in my own front yard," she says in the Netflix series pilot episode. How does one come back from being kidnapped as a child and raised in a doomsday cult?
If you're Kimmy, a positive person who always believed she'd get out of the cult one day, you take on the world best-foot-forward. The best thing about Unbreakable Kimmy Schmidt is how creators Tina Fey and Robert Carlock don't shy away from the darkness in Kimmy's backstory. She's afraid of revealing her past so that others could judge her automatically as "just" a victim. She wants to make it on her own, triggers in everyday life be damned. Through determination and pluck, and with great-if-egotistical friends (Tituss Burgess, Jane Krakowski), she does.
2015 has been an incredibly difficult year. Terrorism and shootings make news seemingly every week. Thank goodness for shows like Unbreakable Kimmy Schmidt that, in their own small ways, show us how to walk toward a brighter tomorrow.
The Wiz Live!
After Empire premiered to huge ratings, culture writers started talking about the Empire Effect. In theory, since a show that used fast plotting and represented nonwhite, non-heterosexual characters was so successful, other series would follow suit. For best evidence of the Empire Effect taking hold, look no further than The Wiz Live!
Americans watched two years of NBC live musicals and hate-tweeted along. The Wiz Live!, on the other hand, inspired millions of tweets praising the production, newcomer star Shanice Williams and more. It was a rousing success.
Then, with less than 10 minutes to go, Twitter user @starsinmylocs shared this.
What can be said that that photo doesn't already capture? All the shows and films on this list are on here because they represent something exciting. They represent stories about nonwhite characters or women or trans Americans. They take television beyond depicting its decades-long norms and move it toward the future. 
Representation matters. It inspires new generations to do more. As Viola Davis said as she accepted the Emmy for outstanding lead actress in a drama series, making her the first black woman to do so, "The only thing that separates women of color from anyone else is opportunity." This year, we saw the beauty that opportunity can produce. Thanks to the progress we're making, that girl in the above photo may not have to fight so hard for her own shot one day.
Read all of Mic's year-in-review coverage here.