Senate Votes to Defund Planned Parenthood — Obama Will Veto if the Bill Reaches His Desk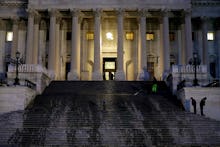 Despite last Friday's shooting at a Planned Parenthood clinic in Colorado Springs, Colorado, women's reproductive rights faced a new threat Thursday when the U.S. Senate moved forward with its decision to end all of Planned Parenthood's federal funding.
Though Democrats advocated for retaining the funding, three Republicans sponsored the funding-preserving amendment that ultimately failed by a 48-52 vote. The White House has previously stated that President Barack Obama would veto legislation defunding Planned Parenthood or otherwise restricting access to preventive care and health services for women.
Many of the Twitter users whose posts floated to the top couldn't help but point out the irony in the Senate's decision.
Correction: Dec. 4, 2015