Embattled Chicago Mayor Changes Mind, Now "Welcomes" DOJ Investigation of Police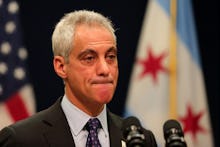 When it rains, it pours, and the office of Chicago Mayor Rahm Emanuel is facing a metaphorical thunderstorm of controversies and about-faces this week.
One day after saying he opposed a U.S. Department of Justice investigation into the Chicago Police Department, Emanuel decided Thursday that he would welcome the DOJ probe — and will throw in another police shooting video for good measure, according to the Chicago Sun-Times.
The new video — which was recorded by a patrol car dash camera on Oct. 12, 2014 — reportedly shows CPD Officer George Hernandez shooting 25-year-old Ronald Johnson III in the back as he flees. According to the Chicago Tribune, Johnson's family has been fighting the city to get the video released for at least a year, with no success.
Police at the time said the victim pointed a gun at officers before Hernandez fired, but Johnson's family says the footage will prove otherwise. It is unclear when the mayor plans to make the video public.
The release would come not long after a Cook County judge compelled Emanuel's office to release footage of the Oct. 20, 2014 killing of 17-year-old Laquan McDonald, who was shot 16 times by Officer Jason Van Dyke. The McDonald video prompted a first-degree murder charge for Van Dyke on Nov. 24, and a string of protests in Chicago.
Meanwhile, Emanuel's announcement came following Democratic presidential candidate Hillary Clinton's expression of support for a DOJ investigation into the Chicago police, via a campaign representative speaking to the Chicago Tribune. According to USA Today, Emanuel said Thursday he "welcomes engagement from the Department of Justice when it comes to looking at the systemic issues embedded in CPD" — a department that has seen its share of scandal in recent years.
In April alone, the city settled with Laquan McDonald's family for $5 million and set up a $5.5 million fund to compensate victims of the torture scandal surrounding former CPD Commander Jon Burge. A Cook County judge also acquitted Officer Dante Servin of murder that month because State's Attorney Anita Alvarez charged him with involuntary manslaughter — a charge that didn't come close to matching the severity of his crime. (While off-duty, Servin fired his gun into a crowd and killed 22-year-old Rekia Boyd in 2012.)
The violence, opacity and alleged corruption of the Chicago Police Department has received nationwide attention over the past two weeks, with accusations of everything from a police cover-up surrounding the McDonald shooting to the mayor hiding the video to improve his election chances have reached the highest levels of city hall.
Emanuel also fired Police Superintendent Garry McCarthy on Wednesday — the same day he announced the formation of a police accountability task force.