Coldplay Is Headlining the 2016 Super Bowl Halftime Show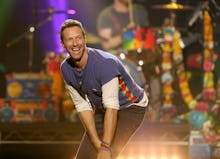 After widespread speculation, it was confirmed Thursday contemporary rock group Coldplay will take the stage at the 2016 Super Bowl Halftime Show. The band, whose latest and possible final album A Head Full of Dreams drops Friday, will perform at Levi's Stadium in Santa Clara, California, on Feb. 7. 
It's the 50th Super Bowl in the NFL's history, and Coldplay's first performance as the event's headliners. Wall Street Journal financial editor Dennis Berman tweeted the news:
The NFL is planning on officially announcing the news during Thursday night's Green Bay-Detroit match, airing at 8:25 p.m. Eastern on both CBS and the NFL network, according to NFL.com. NBC originally reported Monday Coldplay was a possible selection for the coveted halftime performance, along with Maroon 5 and Bruno Mars, who performed two years ago.
However, they may not be the only ones performing during the widely-watched game: Dan Hanzus, a writer for NFL.com, wrote, "We can expect multiple performers — and I doubt they mean it in a Katy-Perry-with-cameos-from-Lenny-Kravitz-and-Missy-Elliott kind of way. Our guess is there will be multiple stand-alone A-list acts, covering different generations to honor the Super Bowl's golden anniversary."