'Game of Thrones' Season 6 Teaser Trailer Released — Watch It Here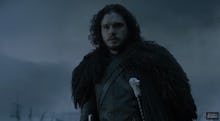 While fans or George R.R. Martin still have to bide much time until Game of Thrones season 6's April release date, the show's producers at HBO threw fans a bone Thursday in the form of a painfully short teaser. 
Without a doubt, the teaser, which features both breathing and bleeding footage of Kit Harington will reignite the debate on whether or not his character Jon Snow is or is not dead. A lot of speculation has been thrown around, despite the show's producers' insistence that Snow is dead.
Here's the teaser:
And in October, Harington's coworker Maisie Williams, who plays Arya Stark, sided with the producers that Jon Snow is indeed dead.
"People are constantly asking me [if Snow is alive] and the answer is 'no,' I'm very sorry,'" said in an interview with London-based radio station Absolute Radio. "Yeah, he's dead."
"I'm not a liar," she added. "I'm very sorry. I would know, of all people, after all. I'm the one who has the script here!" 
Yet Game of Thrones fans reacting to the teaser on Twitter all seemed to echo the same chorus: