Black Twitter Was Here for 'The Wiz Live!'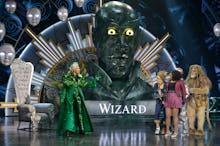 From the very beginning of the two-and-a-half-hour telecast of The Wiz Live! on NBC on Thursday night, people were flooding Twitter with their thoughts and opinions. And none were more on top of the night's events than Black Twitter:
The feeling of love for The Wiz, its star Shanice Williams and the rest of the cast was palpable:
People were here for Elijah Kelley as the Scarecrow, a role previously inhabited by Michael Jackson in the original film version of The Wiz:
And Ne-Yo as the Tin Man had everyone on their feet:
David Alan Grier as the Cowardly Lion had people rolling with laughter:
People began to shed tears when Shanice Williams sang "Be a Lion" along with Grier. 
And they were body rolling to The Poppies. 
When Dorothy finally entered the Emerald City, the voguing and runway on display brought out the Paris is Burning memes. 
In fact, the whole production had a lot of people feeling a lot of emotions:
Queen Latifah was a big hit, too, including with six-time Tony Award winner Audra McDonald. 
Orange Is the New Black star and Emmy-winner Uzo Adoba just about broke the Internet: 
As Williams sang the finale, "Home," Twitter basically got on its collective feet for a standing ovation: 
In the end, many saw the night as the perfect reason to get the family together and see young black children flourish:
And last, but definitely not least: