Scott Weiland, Former Frontman of the Stone Temple Pilots, Found Dead at 48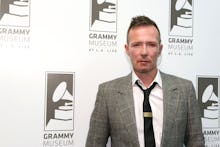 Scott Weiland, the snarling lead vocalist for Stone Temple Pilots and Velvet Revolver, has taken his last ride on that Southern train. Police in Bloomington, Minnesota, found Weiland unresponsive in a car Thursday night.
According to his Facebook page, Weiland died in his sleep, while passing through on a tour stop with his band, Scott Weiland and the Wildabouts. He was 48.
Weiland was one of the best-known vocalists of the grunge era of rock 'n' roll. With the Stone Temple Pilots, he charted a No. 1 album, Purple, in 1994, which produced the radio hits "Big Empty," "Vasoline" and "Interstate Love Song." 
That same year, he won a Grammy for the single "Plush" off the 1992 album Core. Despite their success, selling 13.5 million albums in the United States, the group disbanded in 2002 due to infighting between members.
He later formed the supergroup Velvet Revolver with guitarist Slash, bassist Duff McKagan and drummer Matt Sorum, all formerly of Guns N' Roses, and guitarist Dave Kushner of Wasted Youth. They recorded two albums: 2004's Contraband, which produced the Grammy-winning single "Slither," and 2007's Libertad. 
His public arrest record had long put him in the spotlight. In 1995 he was arrested for buying crack cocaine, and in 1998 for heroin possession, which resulted in a jail stint in 1999 for violating his parole. During the Velvet Revolver years, Weiland's battles with drugs and alcohol became much more disruptive. In 2008 he pled no contest to a DUI. That year same he parted ways with Velvet Revolver, with the band citing his "increasingly erratic on-stage behavior and personal problems."
Despite his long addiction, he had recently seemed to kick the habit. "I haven't had a needle in my arm in thirteen years," Weiland told Blabbermouth in April. "Overcoming my addiction to heroin was the hardest thing I've ever done, and I'm damn proud of the fact that the time in my life when drugs were stronger than my commitment to my health is so far behind me, and always will be." 
The Wildabouts' guitarist, Jeremy Brown, 34, died in March from a multiple drug intoxication.
Tributes to Weiland have been pouring in all morning. "I hope it wasn't drugs," Nikki Sixx tweeted, bassist for Motley Crüe. "The saddest part of the story is his kids and family being left behind." Tributes like this have been pouring in all morning: