Donald Trump Grabs Huge Lead in Latest 2016 Republican Presidential Poll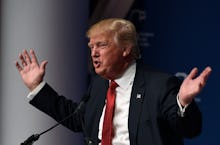 It's lonely at the top — especially for GOP presidential front-runner Donald Trump, who's now the top-polling candidate by a 20-point landslide according to the latest CNN/ORC poll released Friday. 
Trump has maintained a comfortable lead over the several other GOP candidates for a while now, but the most recent poll shows Trump at 36% while Texas Sen. Ted Cruz trailed far behind at 16%. Carson, who was neck and neck with Trump a few weeks ago, polled third at 14% in the CNN poll. Florida Sen. Marco Rubio polled at 12% and the rest of the candidates polled less than 5%. 
Trump is up 9% and Cruz 12% since last month's CNN/ORC poll and are the two most-improved. Carson is down 8% since the October poll and former Florida Gov. Jeb Bush is down 5 points, putting him at 3%. 
A poll released Wednesday by Quinnipiac University showed Trump leading at 27% while runner-up Rubio trailed behind at 17%. 
During a Regional Jewish Center forum on Thursday, following but not related to the Wednesday San Bernardino, California shooting that left 14 dead, Trump bragged that his "numbers go way up" whenever there's a "tragedy" — though the CNN/ORC poll was conducted from Nov. 27 through Tuesday, before the shooting occurred. 
After the poll was released, Trump took to Twitter to thank his supporters — and gloat about his commanding lead.