Shanice Williams Was the Breakout Star of NBC's 'The Wiz' and Twitter Is Going Nuts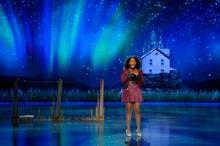 Shanice Williams, a 19-year-old New Jersey native, was the breakaway star from NBC's televised special The Wiz Live and the Internet is taking notice. Shanice played the role of Dorothy, alongside an all-star cast of actors and musicians that included Queen Latifah, Mary J. Blige, Uzo Aduba, Elijah Kelly, Common and Ne-Yo. NBC broadcasted the 3-hour-long musical special live on Thursday at 8 p.m. Eastern. 
"Williams was raised and trained in musical theater," according to the young star's bio on NBC's page for The Wiz Live. "She was selected out of hundreds of applicants nationwide who auditioned to portray the iconic role of a Kansas farm girl who gets swept up in a tornado and is sent to the mysterious land of Oz."
Judging by the response on social media after the broadway show aired, Williams, who has five years of training and who has co-starred in local performances like West Side Story, You're a Good Man, Charlie Brown and Pippin, stole the show.
Broadway legend James Brown III, who most recently played Sugar Jackson in a Broadway production of Rocky, was there to greet Williams after her performance. "So young and talented," Brown tweeted. "We are all proud."
Singer, actress and broadway royalty Audra McDonald also had a thing or two to say about Williams. "Your world is about to 'change its face' but I know where you're going... as far and as high as you want," McDonald wrote.
On Twitter, the crowd went wild:
For those that missed Thursday's broadcast, The Wiz Live can be streamed on NBC's website. 
Viewers can watch the special for free via NBC.